1948 Original African American Actor Rex Ingram Photo Vintage Arrested Mann Act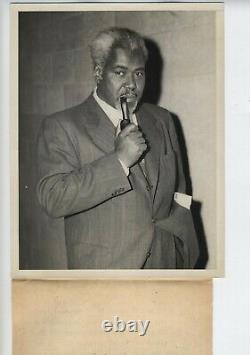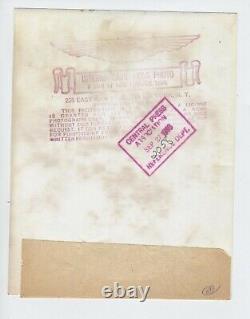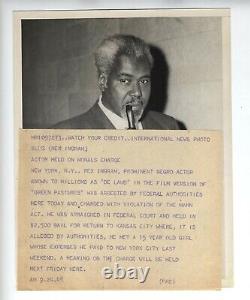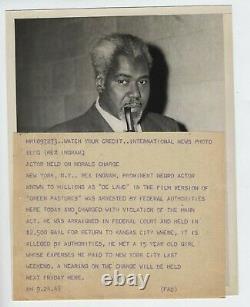 A 1948 PHOTO OF REX INGRAM AFRICAN AMERICAN ACTOR VINTAGE ORIGINAL MEASURING APPROXIMATELY 6 3/4 X 8 1/2 INCHES. WAS ARRESTED BY FEDERAL AUTHORITIES HERE TODAY AND CHARGED WITH VIOLATION OF THE MANN ACT. Rex Ingram (October 20, 1895 - September 19, 1969) was an American stage, film, and television actor. Ingram was arrested for violating the Mann Act in 1948. Pleading guilty to the charge of transporting a teenage girl to New York for immoral purposes, he was sentenced to eighteen months in jail.
He served just ten months of his sentence, but the incident had a serious effect on his career for the next six years. In the interim, he invested in the Club Alabam, a famed nightclub located in the Dunbar Hotel in South Central Los Angeles, with partners Joe Morris and Clarence Moore, reopening it as a jazz club. Ingram was born near Cairo, Illinois, on the Mississippi River; his father was a steamer fireman on the riverboat Robert E. Ingram graduated from the Northwestern University medical school in 1919 and was the first African-American man to receive a Phi Beta Kappa key from Northwestern University. [3] He went to Hollywood as a young man where he was literally discovered on a street corner by the casting director for Tarzan of the Apes (1918), starring Elmo Lincoln.
He made his (uncredited) screen debut in that film and had many other small roles, usually as a generic black native, such as in the Tarzan films. With the arrival of sound, his presence and powerful voice became an asset and he went on to memorable roles in The Green Pastures (1936), The Adventures of Huckleberry Finn (the 1939 MGM version, opposite Mickey Rooney), The Thief of Bagdad (1940-perhaps his best-known film appearance-as the genie), The Talk of the Town (1942), and Sahara (1943).
From 1929, he also appeared on stage, making his debut on Broadway. He appeared in more than a dozen Broadway productions, with his final role coming in Kwamina in 1961. He was in the original cast of Haiti (1938), Cabin in the Sky (1940), and St. He is one of the few actors to have played both God (in The Green Pastures) and the Devil (in Cabin in the Sky). In 1966 he played Tee-Tot in the movie Your Cheatin' Heart. [4] Pleading guilty to the charge of transporting a teenage girl to New York for immoral purposes, he was sentenced to eighteen months in jail. In 1962, he became the first African-American actor to be hired for a contract role on a soap opera, when he appeared on The Brighter Day. He had other minor work in television in the 1960s, appearing in an episode each of I Spy and The Bill Cosby Show, both of which starred Bill Cosby, who used his influence to land him the roles.
Shortly after filming a guest spot on The Bill Cosby Show, Ingram died of a heart attack at the age of 73. [1][6] He was interred in Forest Lawn Memorial Park in Hollywood Hills, California. Adam / De Lawd / Hezdrel. The Adventures of Huckleberry Finn. The Talk of the Town.
A Thousand and One Nights. Hell on Devil's Island. Alternative title: The Quest for King Solomon's Mines.
Rex Ingram, a Black actor, was born on this date in 1895. He was born on a houseboat on the Mississippi River near Cairo, IL, when his mother, who was on her way home from a visit with relatives in Natchez, MS, went into labor. The son of a riverboat fireman, Ingram is said to have grown up working with his father on the steamer Robert E. Ingram became interested in acting while attending military school. He enrolled in Northwestern University in Evanston, IL, in 1912, where he became the first Black man to earn a Phi Beta Kappa key at the school.
Ingram said that he headed for California in 1919, where he sailed for 18 months as a crewman on a windjammer. In his first film, "Tarzan of the Apes, " 1918, Ingram was cast in a bit part. He appeared in many other Tarzan films and in the silent films "The Ten Commandments, " "The Big Parade, " "Salome, " and King of Kings.
While he was in Hollywood, Ingram worked a number of jobs between films in order to support himself. According to Ebony Magazine, he claimed to have been called "the greatest Negro heavyweight prospect since Jack Johnson" when he fought professionally in California in 1921. Ingram moved to New York City in 1928. In 1929, he made his stage debut on Broadway in "Lulu Belle, " and he played in "Porgy and Bess" on Broadway.
In 1933, Ingram played a small part in the film Emperor Jones. " Other off-Broadway shoes in which he performed small parts were "Goin' Home" (1932), "Stevedore" (1933), "Marching Song" (1934), and "Once in a Lifetime (1935). More successful on screen than on stage, Ingram's first big break came in 1936, when he was cast as De Lawd in the film version of "The Green Pastures, " Ingram married Francine Everett the same year. Ingram was denied many roles during his career because he was Black, yet he was one of the few actors to serve on the board of directors of the studio actor's guild.
Ingram became an international star when, in 1940, he was chosen to play the role of the Genie of the Lamp in the British film The Thief of Baghdad. " One of his best-known roles was in the film "Cabin in the Sky (1943). As Ingram's fame soared, he promised himself not to accept any more roles that were demeaning to Blacks.
He recognized the powerful influence of the entertainment media and wanted to help rather than retard the process of Black freedom and acceptance in America. In 1948 Ingram's bright career stopped when he was arrested for transporting a minor, a 15-year old white girl from Salina, Kansas, across state lines for immoral purposes. He plead guilty to the charges and was sentenced to an 18-month jail term. He served ten months before being released on parole. Ingram lost his home in Warm Springs Canyon, California, and suffered greatly from bouts of depression and self-doubt. In 1951, Ingram made his first appearance since the tragedy in Nick Stewart's Christopher Columbus Brown. Ingram never achieved again the stardom he lost.
However, he did manage find to work, playing an African chief in "Ramar of the Jungle" (1952), "Anna Lucasta" (1958), "God's Little Acre" (1958), "Elmer Gantry" (1960), "Your Cheating Heart" (1964), and "Hurry Sundown" (1967). In 1957, he appeared on Broadway in the all-black production of Waiting for Godot. He appeared in the television shows Daktari, I Spy, Gunsmoke, and Playhouse 90.
His last role was for The Bill Cosby Show. Ingram smoked a pipe and made a hobby of collecting them; he owned about 500 pipes. He had a heart attack and died at his home in Hollywood on September 19, 1969, at the age of 73, leaving behind his second wife, Dena, daughter Gloria Wagner, and two grandsons. He had a long career as an actor and enhanced the Black male image on stage and in film.
Rex Ingram, one of the first African American male actors to serve on the Board of the Screen Actors Guild, was born in 1895 on a houseboat on the Mississippi River near Cairo Illinois. Ingram claimed to have sailed as a crewman on a windjammer after receiving a medical degree from Northwestern University in Illinois, though little is actually known about his personal life prior to his entry into acting.
Ingram's film career began in 1918, when he made his acting debut by appearing in bit parts of Tarzan films. He went on to appear in silent films such as The Ten Commandments (1923). Between filming, Ingram worked as a professional boxer to support himself and later appeared in a number of Broadway plays, including Porgy and Bess and Stevedore. During his Broadway interim in New York, Ingram traveled back and forth to Hollywood where he obtained small parts in a number of movies, including the 1933 film The Emperor Jones opposite Paul Robeson. His big break came when he appeared in the 1936 film Green Pastures, for which he received acclaim for his multifaceted ability to portray the characters De Lawd, Adam, and Hezdrel.
In 1939, Ingram was offered a role in The Adventures of Huckleberry Finn as the character Nigger Jim. Despite its racially stereotypical tone, Ingram accepted the role and by the early 1940s, studios were aggressively pursuing him regularly.
Ingram became known for his portrayal of powerful, dignified, dominant characters, in films such as The Thief of Bagdad (1940) where he won critical acclaim for his role of the heroic Genie of the Lamp. He also appeared in Cabin in the Sky (1943), and A Thousand and One Nights (1948).
While Ingram's career was on the rise, his personal life suffered. In 1948, he pleaded guilty to having transported a 15-year-old girl out of the state of Kansas for immoral purposes. Consequently, he was sentenced to a short prison term, lost his California home and several scheduled movie roles. However, Ingram managed to successfully resume his film career following the incident and remained in the film and television industry regularly until he died of a heart attack in his Hollywood home in 1969. Ingram grew up in Cairo, Illinois, the son of a worker on the riverboat Robert E.
He was the first person of color to graduate Phi Beta Kappa from Northwestern University; he earned a medical degree and was a licensed physician. In this, there is a certain parallel with Paul Robeson, also an academic achiever who had a law degree from Columbia.
Ingram, though not as well remembered today, came along earlier. Just prior to earning his degree, Ingram got his first acting credits: he was an extra in the movies Tarzan with Elmo Lincoln, and Salome with Theda Bara, both in 1918. These early credits were a matter of good luck. He was a strikingly handsome man and a casting director had spotted him on the street. He later took extra roles in The Ten Commandments (1923), The King of Kings (1927), and The Four Feathers (1929).
Today, film buffs and scholars are apt to initially mix him up with another Rex Ingram, director of The Four Horsemen of the Apocalypse (1921) with Rudolph Valentino. Interestingly, THAT Rex Ingram was from Ireland and had changed his name in 1914; his given moniker was Reginald Ingram Montgomery Hitchcock. It was in the 1930s that Ingram's career as an actor truly got going. He had a small role in The Emperor Jones (1933) with Paul Robeson. Then in 1934, several parts on Broadway, in the plays Theodora the Quean, Stevedore, and Dance with Your Gods, and the Oscar Micheaux film Harlem After Midnight.
In 1936, he was cast as De Lawd and several other roles in the film version of the all-black The Green Pastures, the first of several benchmarks in his career. (1937), Haiti (1938), and Sing Out the News (1939). During these years (1936-39) he was married to his first wife, Francine Everett. In 1939 he was cast in the co-starring role of Jim in MGM's production of The Adventures of Huckleberry Finn opposite Mickey Rooney. Then he played the Djinn (Genie) in the 1940 remake of The Thief of Bagdad with Conrad Veidt and Sabu.
Then yet another benchmark - he played Lucifer in the original 1940 Broadway production of Cabin in the Sky (1940), later reprising the role in the 1943 Hollywood adaptation. From 1941 through 1947 he did voice work in several animated shorts directed by George Pal (often playing a character named "Jasper"), and had supporting roles in the films George Stevens' Talk of the Town (1942) with Cary Grant and Jean Arthur, Sahara (1943), Fired Wife (1943), Dark Waters (1944), and A Thousand and One Nights (1945), returning to Broadway for roles in St. Louis Woman and Lysistrata, in 1946.
A part in the 1948 film Moonrise ended the first leg of his career. In 1948, Ingram pled guilty to a violation of the Mann Act (transporting an underage female across state lines for immoral purposes) and served ten months in jail, an immense personal and professional setback. He invested in a nightclub during his years of exile, and then slowly began to make his back into being castable.
The second leg of Ingram's career started as the first part had - as an extra in a Tarzan movie. You can see him as a Sukulu chieftain in Tarzan's Hidden Jungle (1955). In 1956 he played Pozzo in an all-black Broadway version of Waiting for Godot directed by Herbert Berghof and also featuring Geoffrey Holder, Earle Hyman, and Mantan Moreland.
He thereafter worked steadily in films and television for the next decade and a half. You can see him in supporting roles in the films God's Little Acre (1958), Watusi (1958), Elmer Gantry (1960), Your Cheatin' Heart (1964), Hurry Sundown (1967), and Journey to Shiloh (1968), among others, and in guest shots on shows like The Rifleman, I Spy, Daktari, and Gunsmoke. His last screen role was in a holiday episode of The Bill Cosby Show (1969).
He died of a heart attack soon after that. This item is in the category "Collectibles\Photographic Images\Photographs". The seller is "memorabilia111" and is located in this country: US.
This item can be shipped to United States, Canada, United Kingdom, Denmark, Romania, Slovakia, Bulgaria, Czech Republic, Finland, Hungary, Latvia, Lithuania, Malta, Estonia, Australia, Greece, Portugal, Cyprus, Slovenia, Japan, China, Sweden, Korea, South, Indonesia, Taiwan, South Africa, Thailand, Belgium, France, Hong Kong, Ireland, Netherlands, Poland, Spain, Italy, Germany, Austria, Bahamas, Israel, Mexico, New Zealand, Philippines, Singapore, Switzerland, Norway, Saudi Arabia, United Arab Emirates, Qatar, Kuwait, Bahrain, Croatia, Republic of, Malaysia, Brazil, Chile, Colombia, Costa Rica, Panama, Trinidad and Tobago, Guatemala, Honduras, Jamaica, Antigua and Barbuda, Aruba, Belize, Dominica, Grenada, Saint Kitts-Nevis, Saint Lucia, Montserrat, Turks and Caicos Islands, Barbados, Bangladesh, Bermuda, Brunei Darussalam, Bolivia, Ecuador, Egypt, French Guiana, Guernsey, Gibraltar, Guadeloupe, Iceland, Jersey, Jordan, Cambodia, Cayman Islands, Liechtenstein, Sri Lanka, Luxembourg, Monaco, Macau, Martinique, Maldives, Nicaragua, Oman, Peru, Pakistan, Paraguay, Reunion, Vietnam, Uruguay.
Region of Origin: US
Framing: Unframed
Country/Region of Manufacture: United States
Size Type/Largest Dimension: Large (Greater than 10\
Listed By: Dealer or Reseller
Date of Creation: 1940-1949
Color: Black & White
Theme: Movies
Time Period Manufactured: Contemporary (1940-Now)
Original/Reprint: Original Print
Antique: No
Type: Photograph

---