AFRICAN AMERICAN Portrait 16x20 BLACK HISTORY MONTH from original glass negative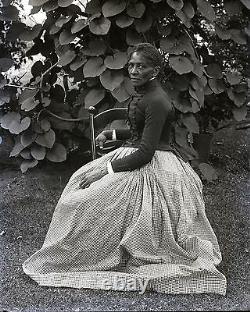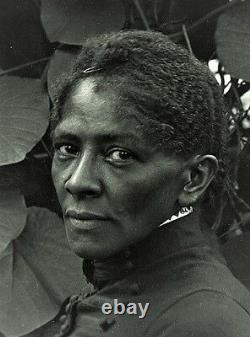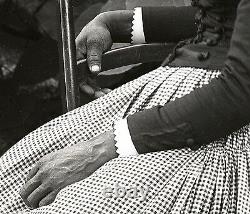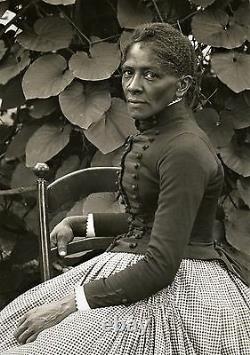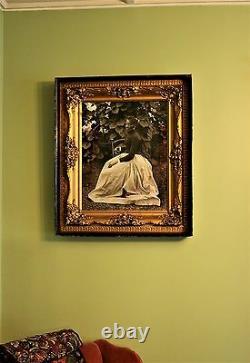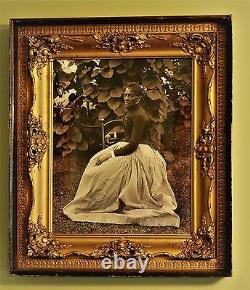 LOOK AT THE AMAZING DETAIL IN HER HANDS! This is a stunning and highly detailed contemporary UNFRAMED 16" x 20" metallic photographic print on paper made from the original glass plate negative in my collection. No one else has this photograph, and only 1 original period print is known to exist.
From the original negative taken by photographer Samuel Willard Bridgham of Seekonk, Massachusetts, New York City, Bar Harbor, Maine, and Providence, Rhode Island. If you have a nice 16x20 Victorian Frame, this photograph is PERFECT! Also note that she is wearing a military blouse. I NOW BELIEVE THIS IMAGE TO BE OF SUSIE KING TAYLOR AT ABOUT AGE 40. ONLY 1 KNOWN PHOTOGRAPH OF SUSIE TAYLOR EXISTS, WHICH WAS TAKEN OF HER AT A YOUNG AGE.
SEE IMAGES BELOW AND COMPARE... She has a wonderful, fierce look that is enhanced when you know that her bodice appears to be influenced by military uniforms.
From the bands of braid on her standing collar and torso to the ball buttons and the short tails behind, this looks to me like a soldier's coatee of a slightly earlier era. In looking at this picture more closely, notice that there are small buttons at the back of the waist just above the tails - another military feature. Given the kind of shift in values seen in early photography, the braid on this woman's bodice might originally have been yellow which, in the U. Army of the day was the distinguishing color of the cavalry (red for artillery, sky blue for infantry, etc). Which leads to the question of why would this woman wear a military-inspired bodice? She might be a "vivandière" or "cantinière" - one of the women who brought refreshments to 19th century armies, or perhaps she may have been the wife of a soldier? This contemporary photograph comes from the original 1880's 8" x 10" glass negative in my collection.
I had a couple of large prints made that are breathtaking when framed. You will not see anything like this from anyone else at any price, because no one else has this image. I have included a photograph of one of these that I framed and it hangs in my home. Samuel Willard Bridgham Was born in New York City, November 11, 1842.
He was prepared for college at private schools and entered Columbia College in the class of 1864. However, during his first year, in 1860, he suffered from a severe attack of typhoid fever, and was compelled to give up his studies for a time. In 1864, he again entered Columbia College in the "School of Mines, " and was graduated therefrom with the first class that went through that institution, in 1868.
After his graduation he became a member of the firm of Hale, Bridgham & Harmer, mining engineers and chemists, with offices at No. 57 Broadway, New York City. Bridgham continued to be an active member of this firm for a period of about ten years. When the firm was dissolved he retired from active business associations. During the civil war, in the fall of 1861, Mr.
Bridgham became a member of Company K, Seventh Regiment, New York Sate Militia, and served his time as an active member of this regiment. He also served on the board as a member of United States Sanitary Commission Supplies for the Wounded.
After the close of the war he rose to the rank of captain, where he joined the ordnance office staff of General William G. Ward, commander of the First Brigade.
Captain Bridgham served at this post for a number of years. On January 7, 1869, at the home of the bride's parents in New Yrok City, Dr. Potter (later bishop of New York) officiating, Mr.
Bridgham was united in marriage to Fanny Schermerhorn. She was born in Paris, France, July 21, 1846, and was the daughter of William Colford and Ann E. (Cottenet) Schermerhorn, of New York. Samuel and Fanny Bridgham had no children. Bridgham is a valued member of various clubs, among them the Knickerbocker, the Camera, the Athletic and the Metropolitan clubs, of New York City.
He held various officer positions in the New York Camera Club, including president, and was on a number of the club's exhibition committees, as well as exhibiting his own photographs there. The New York Camera Club is the oldest such camera club in the U. Alfred Steiglitz was a member and the editor of the organization's publication, Camera Notes.
He was also elected a resident member of the New York Academy of Sciences. The 1895 Popular Astronomy noted that some very perfect photographs of lightning were shown by Mr. Samuel Bridgham at the New York Academy of Sciences Second Annual Reception and Exhibit of Recent Progress in Science. Bridgham apparently also traveled out West in the 1890s and photographed scenic areas, such as the Grand Tetons. Bridgham was active in the photography salons of the period and was often published in various photography publications, including the American Annual of Photography (1893 and 1907).
Some of Bridgham's work is held in the collection of the New York Public Library. He attended Grace Episcopal Church, of New York City, of which his wife is an active member.
Bridgham is the embodiment of culture and refinement, a man whose quiet and dignified, yet democratic manner, has always been a strong characteristic of his family. His politeness is inborn, consequently it is onmipresent. Few men in his position are as approachable, and as void of superfluous dignity, and whether in his home, or on the street, his manner is always the same - courteous and affable. Tall in stature, with a well-rounded physique, he possesses an imposing presence and a commanding figure. His generosity is well known, although ever dispensed in a modest and unostentatious manner.
He is a lover and patron of the fine arts as well as of standard literature, his large and comprehensive library affording him ample opportunity for literary entertainment. He is of a benevolent and charitable nature, and this disposition is shared by his wife to such an extent that their home is an abiding place of hospitality. Bridgham spend their summers at the old Bridgham farm in East Providence, Rhode Island, occupying the old Bridgham homestead which was erected in 1767, and at their summer home at Bar Harbor, Maine. For many years their winter home was the old Schermerhorn residence at No.
954 Fifth avenue, New York City. Bridgham takes an especial pride in the old ancestral farm of the Bridgham family in East Providence, his residence there containing many of the family heirlooms which he prizes beyond value. Although the old homestead is kept in the best of repair, the original style of architecture is always maintained.
As a memorial to the memory of his honored father and mother, Mr. Bridgham, in 1903, gave to the town of East Providence its first free public library, which is located at East Providence Centre, and is known as the Bridgham Memorial.
Samuel Bridgham is listed in both the New York and Rhode Island 1900 censuses. It appears that they were traveling from Samuel's brother Joseph and his family. U have stated correctly, a beathtaking & absolutely beautiful photo. AFRICAN AMERICAN Black Woman 16x20 BRIDGHAM Metallic Paper Photo NY Camera Club (#162923722483). This item is in the category "Art\Art Prints".
The seller is "vacationocity" and is located in this country: US. This item can be shipped to United States.
Size: Medium (up to 36in.)
Artist: Samuel Bridgham
Style: Photography
Listed By: Dealer or Reseller
Production Technique: Original photographic print on metallic paper
Material: Photograph
Date of Creation: Unknown
Original/Reproduction: Original Print
Width (Inches): 16
Color: Black
Subject: Figures & Portraits
Original/Licensed Reprint: Open Edition Print
Height (Inches): 20
Print Surface: Paper

---