Black Mikado Broadway Autographs African American Very Rare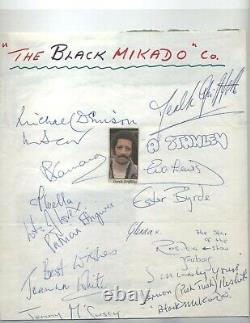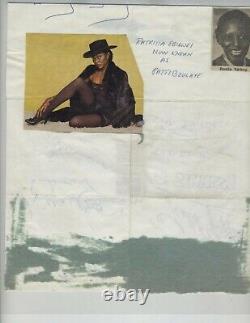 AUTOGRAPHS OF THE ORIINAL CAST FOR THE BROADWAY PRODUCTION OF BLACK MIKADO. The Black Mikado West End Original Cast. The Black Mikado is a musical comedy, based on Gilbert and Sullivan's The Mikado, adapted by Janos Bajtala, George Larnyoh and Eddie Quansah from W. Gilbert's original 1885 libretto and Arthur Sullivan's score. The show premiered on 24 April 1975 at the Cambridge Theatre in London, where it ran for 472 performances before going on a national tour. A 1976 production was mounted in Soweto, South Africa, where it played at the Diepkloof Hall. [1] After this, the musical was not revived. The plot of The Black Mikado does not stray far from the Gilbert and Sullivan original, except that in the musical the action is set on a Caribbean island rather than in Japan. Sullivan's original score is rearranged into a mixture of rock, reggae, blues and calypso. The West End production was directed by Braham Murray with a nearly all black cast, the exception being veteran actor Michael Denison's Pooh-Bah, [2] who was white and dressed in a white tropical suit and pith helmet.
Theatre writer John Bush Jones says that the white Pooh-Bah was portrayed as a lone scheming westerner,'condescending' to serve an emerging black nationalist country for his own grafting purposes. "[3] The rest of the cast were dressed in what were basically African and Caribbean costumes, "some of which were made to look pseudo-Japanese, and the sets were Japanese. [4] Pooh-Bah is an uptight English colonial official who is contrasted with the sexy, exuberant Caribbean islanders. The Three Little Maids from School arrive dressed in uniforms from their proper English school, including, elbow-length gloves and straw boaters.
As they sing of their freedom from the ladies seminary, they strip off their modest clothing until they are shown in their native dress. The cast included Patti Boulaye (under the name Patricia Ebigwei) as Yum-Yum, Floella Benjamin as Pitti-Sing, Michael Denison as Pooh-Bah, Norman Beaton as Nanki-Poo, Derek Griffiths as Ko-Ko, Jenny McGusty as Peep-Bo, Vernon Nesbeth as Pish-Tush, Val Pringle as The Mikado and Anita Tucker as Katisha. Terry Lane wrote, Norman Beaton was a very handsome young Nanki-Poo and Patricia Ebigwei was a heart-stoppingly beautiful Yum-Yum. The sexual tensions that are implicit in the plot were exploited to the full....
Patricia Ebigwei's version of'The Sun Whose Rays' [is] the performance against which all others must now be judged... A slow, erotic, languid ballad of vanity and sexual self-satisfaction that makes the conventional renditions seem prissy. The numbers listed in the 1975 recording were as follows. The show had additional musical numbers. If you want to know who we are. A wand'ring minstrel I. Behold the Lord High Executioner. Three little maids from school. So please you Sir we much regret. Earlier adaptations of The Mikado employing Black casts include.
Eva Lewis began her career at the age of 16 on the London stage appearing in critically acclaimed West End Musicals Catch My Soul and Black Mikado. Her acting career graduated to the silver screen and she later became a household face appearing in numerous television productions for the BBC, ITV and international brand commercials. Eva evolved to match her stylish presence with intellectual substance exploring an interest in "behind-the scenes" beauty and cosmetic techniques whilst lecturing Information Technology at Kensington & Chelsea College.
She wrote and created a successful on-line teaching course and also worked as a Life Coach. In 1995 Eva was given her first Public appointment as a member of the Consumer Panel chaired by the Minister of State. She served the maximum term of 5 years. Eva advised on matters of public importance including consumer transparency. Eva wrote many papers on various areas of food concerns and her term was extended until the inception of the Food Standards Agency.
Between 1998 and 2008, Eva served a maximum term of 10 years on the Advisory Committee on the Microbiological Safety of Food (Department of Health) focused on the risks of lethal bacteria within the food chain on the health and welfare of the British public. Amongst other ACMSF appointments, Eva was a Member of the Working Groups on Botulism in Sheep, Mycobacterium bovis in Cattle and Campylobacter. She was also a member of the ACMSF groups on Infant Botulism and the Risk Assessment Working Party Group. Eva has advised on the Women's Manifesto group for the Conservative Party and is dedicated in her support of all issues concerning women. In 2004, Eva formulated and launched the innovative Monochrome Body and Soul brand as an exclusive spa and retail in the prestigious Duke of York Square development. In 2007, Monochrome relocated to a private town house in Holland Park and later to a smaller location opposite South Kensington tube station better suited to a loyal celebrity clientele. Eva's Monochrome Skincare, now based in Chelsea is focused on Aesthetic Therapy and innovating within the clinical beauty market segment. Eva is School Governor and into her tenth year for The Lord Harris Academies Merton and Morden, also a 6th Form Governor and previous Child Protection Governor. Her life and work are a commitment to serving the British public in diverse areas of life, consumption and wellbeing. Eva facilitated the Desmond Tutu Federation Ubunto Project Roundtable for Young Offenders and introduced them to the Lord Harris Academy in Rainham which led to a successful appointment of a small group of young leaders who would act as Ambassadors. In 2018 Eva was appointed a Director and Trustee of The National Consumer Federation. Young Generation, Second Generation, Mike Yarwood Show, Bruce Forsyth Show, An American In Paris - Lead Dancer, Les Dawson Show, King Creole And The Coconuts, Johnny Ball game Chopsticks, T. Series in Holland and Germany. Catch My Soul, Black Mikado, Brazil Tropical, The Time Of Your Life, Bruce Forsyth Show, Royalty Follies, Bubbling Brown Sugar, Cats, 100th Birthday Tribute - Dame Vera Lynne. Little Shop of Horrors, Revenge Of The Pink Panther, Rock Follies, Bluebell. Plus pantomimes, summer resorts, tours and commercials. Scooby Doo and the Mystery of the Pyramid, Viva International, Buddy - Tokyo, World Culture Festival - Milan, Girls On Tap, Tapping Harlem, Houdini - The Musical, The Les Dawson Show, Dinomime - Butlins resorts, Centre Parcs resort, Numerous pantomimes, trade shows and Mediterranean resorts. Italia Conti, Guildford School of Acting, Mountview Conservatory of Performing Arts, Sylvia Young Theatre School - Head of Tap, Arts Educational School, Kings School Canterbury. Member of British Association of Choreographers.

---