Charles Criner (Black/African American, Texas, B. 1945) Replanting Signed Litho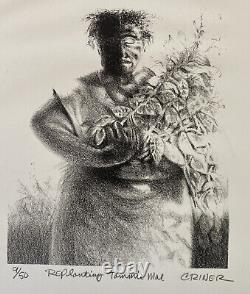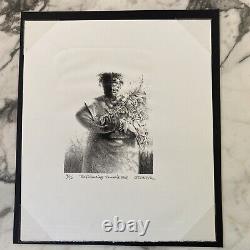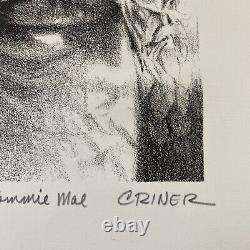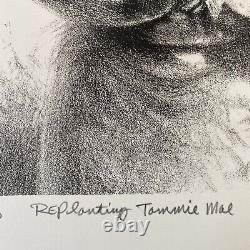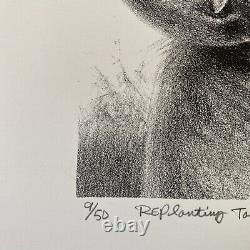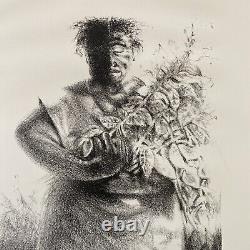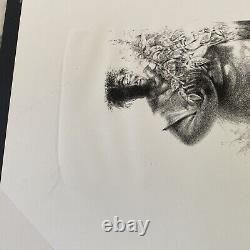 17 by 15 inches (sheet). 9 by 7 inches (image). From AskArt, Charles Criner was born in 1945 in Athens, Texas, a small town near Tyler. Criner's childhood artistic training consisted merely of attempts to copy images from Walter Foster Art books.
In spite of Criner's lack of training, the young man's eyes were opened to the possibility of an artistic career at an early age. Now a master print maker, the scenes of Criner's stone lithographs, the medium he best prefers, are biographical images pulled both from childhood memories and the artist's immediate environment; My art reflects my beliefs and the things that I like to do. Fishing has always been one of my favorite pastimes... I also love to recapture the Black experience in the form of people working in the fields.
I believe that these images are important and that they should be cherished windows into our past. Criner's artwork is included in numerous prestigious private collections and has been exhibited at or is in the permanent collections of: the Charles H. Wright Museum of African American History, Detroit, MI; the Tubman African American Museum, Macon, GA; the Schomburg Center for Research in Black Culture, New York, NY, the Tyler Museum of Art, TX; Museum of Printing History, Houston, TX; Texas Southern University; the Longview Museum of Fine Arts, Longview, TX; University of Arkansas; the Okane Gallery at the University of Houston; the King Center-Columbus, OH; Southern University at Shreveport, LA; Southern University at Baton Rouge, LA; the African American Museum Dallas, TX; and San Antonio Museum, TX. Currently, Criner is the Resident Artist at the Museum of Printing History in Houston and has been since 1997.
In the museum Criner operates a studio, further defines his craft, and leads stone lithography workshops using his antique press.

---