Legendary African American Photographer Bob Black 1983 Photo Chicago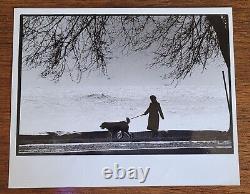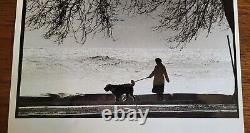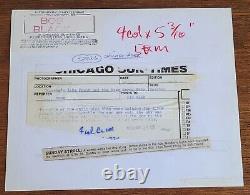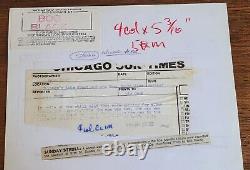 APPROXIMATELY 8X10 INCH PHOTO BY LEGENDARY AFRICAN AMERICAN PHOTOGRAPHER. 1981 PHOTO SPRING-WOMAN DOG LAKEFRONT AT 57TH ST NEAR NORTH SIDE.
Photographer Bob Black was born in Chicago, Illinois, on June 4, 1939. Black was one of five children, and attended Chicago public schools. After briefly attending Woodrow Wilson Junior College, Black began working. Bob Black, the first African-American photographer at the Chicago Sun-Times. Black started his career as a professional photographer in 1965, working at the Chicago Defender as a staff photographer.
By the time Black joined the Defender, it had already established itself as the largest African American-owned newspaper in the nation, and had been fighting for full equality for African Americans since its inception in 1905. In 1968, Black left the Defender for the Chicago Sun-Times where he remains today as a photographer. As a member of the National Association of Black Journalists (NABJ), Black was one of the founders of the Visual Task Force, an organization of still and video photographers within the NABJ. He is also a founding member of the Chicago Alliance of African American Photographers (CAAAP), established in 1999 to bring together local African American photographers to promote their work and educate future generations. Black has been the recipient of numerous awards, including collecting first place at the World Press Photo Competition.
He also actively pursues projects outside his work for the newspaper, including a series of photographs of life in the Dominican Republic and a series of photographs displayed along with other CAAAP members at the Chicago Museum of Contemporary Art. IMAGES BY BOB BLACK STORY BY ALEXY IRVING - Bob Black is a Chicago native and nationally recognized photojournalist with deep roots in the development of what Chicago's professional photography world is today. Blacks recent induction into the National Association of Black Journalist Hall of fame, serves as a reflection of how building with a community can come full circle.
As a founding member of CAAAP and the National Association of Black Journalist's Visual Task Force, his hands have been crafting what generations after him can utilize as a vehicle to thrive in the professional photography and photojournalism industry. CAAAP and NABJ are both safe spaces for the black story teller in all of us. Your community can be found if you lean into your gifts and each of these organizations can be labeled as a starting point towards taking your gifts professional and moving forward with a community, simultaneously.
CAAAP is an organization of black photographers that was ignited following a conversation between Bob Black and CAAAP's founding member Milbert Brown. He [Milbert] was a Tribune photographer and we were covering the White Sox game together. This was coming into the 21st century. Its important for us to document our people.
Our story deserves to be seen as part of a whole and only we can get in deep. Milbert asked, Bob, what I would like to do is pull together a bunch of photographers and we just go through the city and document the black community. To see how far we've come and how much further we've got to go. Think I done anything great. I was just trying to get the job done.
Black has since began archiving his work for future generations to come and has brought students through NABJ under his mentorship. This convention hosts industry professionals, numerous panels, workshops and keynote speakers. The organizations mission is to provide career development and education opportunities to its members. This pivotal moment in history would later on allow Bob Black to be inducted into the National Association of Black Journalists' Hall of Fame for being a instrumental member of the community that built him.
Black recalls learning of his honor and that he was nominated through Milbert Brown and NABJ's current president Dorothy. It was very humbling because I always felt that people who got that honor were people that have done great things. I didn't expect it to happen with me because I didn't While I was a member of NABJ, it was a source of strength for me. When I first went to the conventions, I got to see people who were managing editors and partner heads.
In Chicago, I didn't see any of that, they didn't have it. That's when I found out, Black folks can be the director of photography.
Because I ran into a bunch of them. NABJ is the National Association of Black Journalist founded in Washington, DC.
Every year they host a convention to bring black professionals together to pursue their professional goals. Theres a lot of great things happening in the Black community.
Young people, old people, everybody, doing great things. We need to find those and document them.
One common responsibility of all photojournalist should be to tell the truth with your photography. Its a lot of good things going on in the community, so we should try to find those things and bring that to the forefront because the media is always going to spread the negative. But we have to show the counterpoint to that. As Sun-Times photographer Bob Black photographed this policeman skirmished with demonstrator at Division and Wells Monday night, two other policemen attacked Bob Black with clubs.
Lou Della Evans Reid served as Minister of Music at the Fellowship Missionary Baptist for fifty years. Here Evans is conducting the choir during a service to celebrate her retirement. Photo of Bob Black by Matt Gibson IV.
Look for the essence of the folks that live in the community so people can know we're folks like everybody else who are trying to make life as comfortable for ourselves and our children. Renisha James, 9, lights a candle in memory of Dantrell Davis who was shot to death while on his way home from school, during a rally in the Federal Building Plaza sponsored by'HOPE', which is headed up by her father, Minister Michael James, B. Theology Liberty Baptist Church opened their doors to the community on the night Dr. Martin Luther King was assassinated so people could have a place to mourn and comfort each other.
Chicago, IL, 1939; active Chicago, IL, 2005. GENERAL BOOKS AND GROUP EXHIBITIONS. Atlanta College of Art Gallery.
Songs of My People: African Americans: A Self-Portrait. June 26-August 9, 1991; Boston: Little, Brown and Co. Of 150 works by over 50 African American photographers; intro. Michael Cheers, and Dudley M. This was a photographic project initiated by the editors, not the usual historical compilation. Included: Jules Allen, Howard Bingham, Bob Black, D. Michael Cheers, Michel DuCille, James V. Griffin, Keith Hadley, Durell Hall, Jr. Chester Higgins, Jason Miccolo Johnson, David C.
Lee, Matthew Lewis, Kirk McKoy, Jeanne Moutoussamy-Ashe, Ozier Muhammad, Marilyn Nance, Eli Reed, Morris Richardson II, Jeffery Allan Salter, Coreen Simpson Lester Sloan, D. Stevens, Bruce Talamon, Dixie D.
White, Keith Williams, et al. Traveled to Corcoran Gallery of Art, 1992; Afro-American Historical and Cultural Museum, Philadelphia, April-May 1992; California Afro-American Museum, May 1992 -- at which eight photographs by D Stevens and others related to the Los Angeles riots of 1992 were added. A second small tour of 60 photographs traveled to: Museum of the City of New York; the DuSable Museum, Chicago; the Uffizi, Florence, Italy, and other international venues. Reviews: Renee Lucas Wayne, "An African-American Self-Portrait in Photos, " Philadelphia Daily News, April 17, 1992; Shauna Snow, Redressing the Balance - Photography:'Songs of My People' is Designed to Contribute Toward Understanding... Los Angeles Times, May 30, 1992; Charles Hagen.
Review/Photography:'Songs of My People,' A Black Self-Portrait. " NYT, October 9, 1992; "Unfinished Songs: Three Exhibitions at Philadelphia's Afro-American Museum The Crisis, October, 1992; long description, but with many names of photographers misspelled. Note: the photographs from the exhibition were donated to the Museum of Art and Archaeology, University of Missouri.
4to 30.5 x 25.4 cm. 12 x 10.2 in. , black pictorial boards, pictorial dust jacket. Museum of Contemporary Art (MCA). The Journey: The Next 100 Years.
Group exhibition of work by 50 photographers. Although the number of participants seems to have grown with each subsequent exhibition.
Organized by the Chicago Alliance of African-American Photographers (CAAAP), this exhibition presents 100 photographs by 60 photographers, encompassing all aspects of daily life of the African American communities of the Chicago area including the arts, business, religious life, politics, and social issues such as unemployment and homelessness. Founded in March 1999, the CAAAP was established to encourage aesthetic awareness of photography featuring the African-American community.
South Side Community Art Center. Through the Eyes of Blackness. Group photo exhibition by four Chicago photojournalists. Featured Howard Simmons, John H.
White (Daily News), Ovie Carter (Chicago Tribune), and Bob Black Sun-Times. MICHAEL CHEERS and DUDLEY M. New York: Little, Brown & Co. Essays by Sylvester Monroe, Paula Giddings, Nelson George and Joyce Ladner. Includes photographs by Michelle Agins, Jules Allen, Anthony Barboza, Conrad Barclay, Howard Bingham, Bob Black, Geary G.
Broadnax, Dudley Brooks, Ron Caesar, D. Michael Cheers, George Chinsee, Jacques Chinet, Roland L. Freeman, Vince Frye, Mark Gail, T. Craig Herndon, Chester Higgins, Fred Hutcherson, Jason Miccolo Johnson, David Lee, Matthew Lewis, Roy Lewis, Kirk McKoy, Odell Mitchell, Jeanne Moutoussamy-Ashe, Ozier Muhammad, Marilyn Nance, Eli Reed, Jeffery Allan Salter, Coreen Simpson, Lester Sloan, D. Vereen, Kenneth Walker, Riccardo Watson, John H.
White, Keith Williams, Pat West, and other leading Black photojournalists. The exhibition traveled to 23 U. Cities and 7 countries in Europe. African American Visual Artists: an annotated bibliography of educational resource materials. Lanham, MD: Scarecrow Press, 2001.
Many misspellings of artists' names and a handful of white artists included. Fine Arts Gallery, San Francisco State University.
And the struggle continues: political imagery from the Black Arts Movement of the 1960s and 1970s. B&w raised fist logo on cover, list of artists with biog notes, prograam schedule, brief bibliog. Project Director: Joe Louis Moore. Curated by Samella Lewis and Mary Jane Hewitt. Artists included: Benny Andrews, Kofi Bailey, Richmond Barthé, Romare Bearden, John Biggers, Bob Black, David Bradford, Elizabeth Catlett, Dana Chandler, Floyd Coleman, Dewey Crumpler, Murray DePillars, Emory Douglas, Melvin Edwards, Malaika Favorite, Hal Franklin, Claude Fiddler, Reginald Gammon, Ron Griffin, David Hammons, Ben Hazard, Mike Henderson, Barbara Hogu-Jones, Lois Mailou Jones, Artis Lane, Jacob Lawrence, Samella Lewis, Philip Mason, Joe Moore, Howardena Pindell, Faith Ringgold, Betye Saar, Raymond Saunders, Clarissa Sligh, Ruth Waddy, William Walker, Charles White. Black Power/Black Art at San Francisco State University, Artweek 25 Oct. 10-panel folded brochure, 12.25 x 3.75 in.
Collecting African American Art: Works on Paper and Canvas. 150 color plates, brief bibliog. Index, appendices of art and photo dealers, museums and other resources. Forewords by Dierdre Bibby and Samella Lewis. Text consists of a few sentences at best on most of the hundreds of listed artists.
Numerous typos and other errors and misinformation throughout. The most comprehensive list of Black photographers to date, with brief biographical entries on many artists and a few bibliographical entries on approximately half of the hundreds of names. Artists discussed include: Salimah Ali, Omobowale Ayorinde, J. Edward Bailey, III, Anthony Barboza, Donnamarie Barnes, Vanessa Barnes Hillian, Fay D. Bellamy, Lisa Bellamy, Dawoud Bey, Hart Leroy Bibbs, Bonnie Brisset, Barbara Brown, Lisa Brown, Millie Burns, Muriel Agatha Fortune Bush, Cynthia D.
Cole, Juanita Cole, Cary Beth Cryor, Tere L. Cuesta, Fikisha Cumbo, Phyllis Cunningham, Pat Davis, Carmen DeJesus, Lydia Ann Douglas, Barbara Dumetz, Joan Eda, Sharon Farmer, Phoebe Farris, Valeria "Mikki" Ferrill, Collette V.
Freeman, Rennie George, Bernadette F. Gibson, Anthony Gleaton, Dorothy Gloster, Lydia Hale-Hammond, Gail Adelle Hansberry, Inge Hardison, Teenie Harris, Madeleine Hill, Zebonia Hood, Vera Jackson, Louise Jefferson, Michelle M.
Jeffries, Brent Jones, Brian V. Jones, Julia Jones, Kenneth G. Jones, Leah Jaynes Karp, Irene C. Kellogg, Lucius King, Romulo Lachatanere, Allie Sharon Larkin, George Larkins, Archy La Salle, Abe C. Lavalais, Joyce Lee, Sa'Longo J. Lewis, Harvey James Lewis, Matthew Lewis, Roy Lewis, Fern Logan, Edie Lynch, Peter Magubane, Jimmie Mannas, Louise Martin, Mickey Mathis, Carroll T. Maynard, Rhashidah Elaine McNeill, Marlene Montoute, Michelle Morgan, Jeanne Moutoussamy-Ashe, Marilyn Nance, Yvonne Payne, Patricia Phipps, Ellen Queen, Phillda Ragland, Arkili-Casundria Ramsess, Odetta Rogers, Veronica Saddler, Lloyd Saunders, Cheryl Shackelton, Victoria Simmons, Coreen Simpson, Lorna Simpson, Clarissa T.
Sligh, Ming Smith, Toni Smith, Charlynn Spencer Pyne, Jo Moore Stewart, Celeste P. Stokes, Elisabeth Sunday, Elaine Tomlin, Sandra Turner-Bond, Jacqueline La Vetta Van Sertima, Dixie Vereen, William Onikwa Wallace, Sharon Watson-Mauro, Carrie Mae Weems, Dolores West, Judith C. White, Elizabeth "Tex" Williams, Lucy Williams, Pat Ward Williams, Deborah Willis, Carol R. Wilson, Jonni Mae Wingard, Ernest Withers, and many, many others.
Not all listed in this description, but all individual photographers are cross-listed. Large stout 4to, pictorial boards, no d. Retired Chicago Sun-Times photographer Bob Black was inducted Friday into the National Association of Black Journalists' Hall of Fame.
Black, who worked for the Sun-Times for 38 years after starting at the Chicago Defender, was honored in Aventura, Florida, at the NABJ's yearly convention, along with others including Tom Joyner, the longtime Chicago radio host known as "The Fly Jock" for the years he commuted between Chicago and Dallas to host daily shows in both cities at the same time. All were cited for "significant contributions to not only their respective fields within the journalism community but also in the black community worldwide, " according to Sarah Glover, president of the organization. They have blazed trails and opened doors that have helped black journalists who have come after them to thrive and survive in the industry. The NABJ singled out Black for his photos capturing key historical moments such as the aftermath of Martin Luther King Jr.
S assassination" and also pointed to his work as "a mentor to many NABJ college students. This item is in the category "Collectibles\Photographic Images\Photographs".
This item can be shipped to United States, Canada, United Kingdom, Denmark, Romania, Slovakia, Bulgaria, Czech Republic, Finland, Hungary, Latvia, Lithuania, Malta, Estonia, Australia, Greece, Portugal, Cyprus, Slovenia, Japan, China, Sweden, South Korea, Indonesia, Taiwan, South Africa, Belgium, France, Hong Kong, Ireland, Netherlands, Poland, Spain, Italy, Germany, Austria, Bahamas, Israel, Mexico, New Zealand, Philippines, Singapore, Switzerland, Norway, Saudi Arabia, United Arab Emirates, Qatar, Kuwait, Bahrain, Republic of Croatia, Malaysia, Chile, Colombia, Costa Rica, Panama, Trinidad and Tobago, Guatemala, Honduras, Jamaica, Antigua and Barbuda, Aruba, Belize, Dominica, Grenada, Saint Kitts-Nevis, Saint Lucia, Montserrat, Turks and Caicos Islands, Barbados, Bangladesh, Bermuda, Brunei Darussalam, Bolivia, Egypt, French Guiana, Guernsey, Gibraltar, Guadeloupe, Iceland, Jersey, Jordan, Cambodia, Cayman Islands, Liechtenstein, Sri Lanka, Luxembourg, Monaco, Macau, Martinique, Maldives, Nicaragua, Oman, Pakistan, Paraguay, Reunion.
Type: Photograph
Country/Region of Manufacture: United States

---