Legendary African American Photographer Bob Black Photo Scarce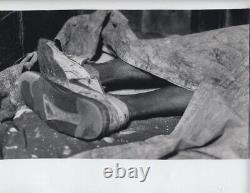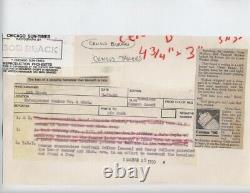 APPROXIMATELY 6 1/2 X11 INCH PHOTO BY LEGENDARY AFRICAN AMERICAN PHOTOGRAPHER. Photographer Bob Black was born in Chicago, Illinois, on June 4, 1939. Black was one of five children, and attended Chicago public schools. After briefly attending Woodrow Wilson Junior College, Black began working. Bob Black, the first African-American photographer at the Chicago Sun-Times.
Black started his career as a professional photographer in 1965, working at the Chicago Defender as a staff photographer. By the time Black joined the Defender, it had already established itself as the largest African American-owned newspaper in the nation, and had been fighting for full equality for African Americans since its inception in 1905.
In 1968, Black left the Defender for the Chicago Sun-Times where he remains today as a photographer. As a member of the National Association of Black Journalists (NABJ), Black was one of the founders of the Visual Task Force, an organization of still and video photographers within the NABJ. He is also a founding member of the Chicago Alliance of African American Photographers (CAAAP), established in 1999 to bring together local African American photographers to promote their work and educate future generations.
Black has been the recipient of numerous awards, including collecting first place at the World Press Photo Competition. He also actively pursues projects outside his work for the newspaper, including a series of photographs of life in the Dominican Republic and a series of photographs displayed along with other CAAAP members at the Chicago Museum of Contemporary Art.
IMAGES BY BOB BLACK STORY BY ALEXY IRVING - Bob Black is a Chicago native and nationally recognized photojournalist with deep roots in the development of what Chicago's professional photography world is today. Blacks recent induction into the National Association of Black Journalist Hall of fame, serves as a reflection of how building with a community can come full circle. As a founding member of CAAAP and the National Association of Black Journalist's Visual Task Force, his hands have been crafting what generations after him can utilize as a vehicle to thrive in the professional photography and photojournalism industry. CAAAP and NABJ are both safe spaces for the black story teller in all of us. Your community can be found if you lean into your gifts and each of these organizations can be labeled as a starting point towards taking your gifts professional and moving forward with a community, simultaneously. CAAAP is an organization of black photographers that was ignited following a conversation between Bob Black and CAAAP's founding member Milbert Brown. He [Milbert] was a Tribune photographer and we were covering the White Sox game together. This was coming into the 21st century. Its important for us to document our people. Our story deserves to be seen as part of a whole and only we can get in deep. Milbert asked, Bob, what I would like to do is pull together a bunch of photographers and we just go through the city and document the black community.
To see how far we've come and how much further we've got to go. Think I done anything great.
I was just trying to get the job done. Black has since began archiving his work for future generations to come and has brought students through NABJ under his mentorship. This convention hosts industry professionals, numerous panels, workshops and keynote speakers. The organizations mission is to provide career development and education opportunities to its members. This pivotal moment in history would later on allow Bob Black to be inducted into the National Association of Black Journalists' Hall of Fame for being a instrumental member of the community that built him.
Black recalls learning of his honor and that he was nominated through Milbert Brown and NABJ's current president Dorothy. It was very humbling because I always felt that people who got that honor were people that have done great things. I didn't expect it to happen with me because I didn't While I was a member of NABJ, it was a source of strength for me. When I first went to the conventions, I got to see people who were managing editors and partner heads. In Chicago, I didn't see any of that, they didn't have it.
That's when I found out, Black folks can be the director of photography. Because I ran into a bunch of them. NABJ is the National Association of Black Journalist founded in Washington, DC. Every year they host a convention to bring black professionals together to pursue their professional goals. Theres a lot of great things happening in the Black community. Young people, old people, everybody, doing great things. We need to find those and document them.
One common responsibility of all photojournalist should be to tell the truth with your photography. Its a lot of good things going on in the community, so we should try to find those things and bring that to the forefront because the media is always going to spread the negative. But we have to show the counterpoint to that. As Sun-Times photographer Bob Black photographed this policeman skirmished with demonstrator at Division and Wells Monday night, two other policemen attacked Bob Black with clubs.
Lou Della Evans Reid served as Minister of Music at the Fellowship Missionary Baptist for fifty years. Here Evans is conducting the choir during a service to celebrate her retirement.
Photo of Bob Black by Matt Gibson IV. Look for the essence of the folks that live in the community so people can know we're folks like everybody else who are trying to make life as comfortable for ourselves and our children. Renisha James, 9, lights a candle in memory of Dantrell Davis who was shot to death while on his way home from school, during a rally in the Federal Building Plaza sponsored by'HOPE', which is headed up by her father, Minister Michael James, B. Theology Liberty Baptist Church opened their doors to the community on the night Dr.
Martin Luther King was assassinated so people could have a place to mourn and comfort each other. Chicago, IL, 1939; active Chicago, IL, 2005. GENERAL BOOKS AND GROUP EXHIBITIONS.
Atlanta College of Art Gallery. Songs of My People: African Americans: A Self-Portrait. June 26-August 9, 1991; Boston: Little, Brown and Co. Of 150 works by over 50 African American photographers; intro. Michael Cheers, and Dudley M.
This was a photographic project initiated by the editors, not the usual historical compilation. Included: Jules Allen, Howard Bingham, Bob Black, D. Michael Cheers, Michel DuCille, James V. Griffin, Keith Hadley, Durell Hall, Jr.
Chester Higgins, Jason Miccolo Johnson, David C. Lee, Matthew Lewis, Kirk McKoy, Jeanne Moutoussamy-Ashe, Ozier Muhammad, Marilyn Nance, Eli Reed, Morris Richardson II, Jeffery Allan Salter, Coreen Simpson Lester Sloan, D. Stevens, Bruce Talamon, Dixie D. White, Keith Williams, et al. Traveled to Corcoran Gallery of Art, 1992; Afro-American Historical and Cultural Museum, Philadelphia, April-May 1992; California Afro-American Museum, May 1992 -- at which eight photographs by D Stevens and others related to the Los Angeles riots of 1992 were added. A second small tour of 60 photographs traveled to: Museum of the City of New York; the DuSable Museum, Chicago; the Uffizi, Florence, Italy, and other international venues. Reviews: Renee Lucas Wayne, "An African-American Self-Portrait in Photos, " Philadelphia Daily News, April 17, 1992; Shauna Snow, Redressing the Balance - Photography:'Songs of My People' is Designed to Contribute Toward Understanding... Los Angeles Times, May 30, 1992; Charles Hagen. Review/Photography:'Songs of My People,' A Black Self-Portrait. " NYT, October 9, 1992; "Unfinished Songs: Three Exhibitions at Philadelphia's Afro-American Museum The Crisis, October, 1992; long description, but with many names of photographers misspelled. Note: the photographs from the exhibition were donated to the Museum of Art and Archaeology, University of Missouri. 4to 30.5 x 25.4 cm. 12 x 10.2 in.
, black pictorial boards, pictorial dust jacket. Museum of Contemporary Art (MCA).
The Journey: The Next 100 Years. Group exhibition of work by 50 photographers.
Although the number of participants seems to have grown with each subsequent exhibition. Organized by the Chicago Alliance of African-American Photographers (CAAAP), this exhibition presents 100 photographs by 60 photographers, encompassing all aspects of daily life of the African American communities of the Chicago area including the arts, business, religious life, politics, and social issues such as unemployment and homelessness. Founded in March 1999, the CAAAP was established to encourage aesthetic awareness of photography featuring the African-American community. South Side Community Art Center. Through the Eyes of Blackness. Group photo exhibition by four Chicago photojournalists. Featured Howard Simmons, John H. White (Daily News), Ovie Carter (Chicago Tribune), and Bob Black Sun-Times. MICHAEL CHEERS and DUDLEY M. New York: Little, Brown & Co.
Essays by Sylvester Monroe, Paula Giddings, Nelson George and Joyce Ladner. Includes photographs by Michelle Agins, Jules Allen, Anthony Barboza, Conrad Barclay, Howard Bingham, Bob Black, Geary G.
Broadnax, Dudley Brooks, Ron Caesar, D. Michael Cheers, George Chinsee, Jacques Chinet, Roland L. Freeman, Vince Frye, Mark Gail, T. Craig Herndon, Chester Higgins, Fred Hutcherson, Jason Miccolo Johnson, David Lee, Matthew Lewis, Roy Lewis, Kirk McKoy, Odell Mitchell, Jeanne Moutoussamy-Ashe, Ozier Muhammad, Marilyn Nance, Eli Reed, Jeffery Allan Salter, Coreen Simpson, Lester Sloan, D.
Vereen, Kenneth Walker, Riccardo Watson, John H. White, Keith Williams, Pat West, and other leading Black photojournalists. The exhibition traveled to 23 U. Cities and 7 countries in Europe. African American Visual Artists: an annotated bibliography of educational resource materials.
Lanham, MD: Scarecrow Press, 2001. Many misspellings of artists' names and a handful of white artists included. Fine Arts Gallery, San Francisco State University. And the struggle continues: political imagery from the Black Arts Movement of the 1960s and 1970s. B&w raised fist logo on cover, list of artists with biog notes, prograam schedule, brief bibliog.
Project Director: Joe Louis Moore. Curated by Samella Lewis and Mary Jane Hewitt.
Artists included: Benny Andrews, Kofi Bailey, Richmond Barthé, Romare Bearden, John Biggers, Bob Black, David Bradford, Elizabeth Catlett, Dana Chandler, Floyd Coleman, Dewey Crumpler, Murray DePillars, Emory Douglas, Melvin Edwards, Malaika Favorite, Hal Franklin, Claude Fiddler, Reginald Gammon, Ron Griffin, David Hammons, Ben Hazard, Mike Henderson, Barbara Hogu-Jones, Lois Mailou Jones, Artis Lane, Jacob Lawrence, Samella Lewis, Philip Mason, Joe Moore, Howardena Pindell, Faith Ringgold, Betye Saar, Raymond Saunders, Clarissa Sligh, Ruth Waddy, William Walker, Charles White. Black Power/Black Art at San Francisco State University, Artweek 25 Oct. 10-panel folded brochure, 12.25 x 3.75 in. Collecting African American Art: Works on Paper and Canvas.
150 color plates, brief bibliog. Index, appendices of art and photo dealers, museums and other resources. Forewords by Dierdre Bibby and Samella Lewis.
Text consists of a few sentences at best on most of the hundreds of listed artists. Numerous typos and other errors and misinformation throughout. The most comprehensive list of Black photographers to date, with brief biographical entries on many artists and a few bibliographical entries on approximately half of the hundreds of names.
Artists discussed include: Salimah Ali, Omobowale Ayorinde, J. Edward Bailey, III, Anthony Barboza, Donnamarie Barnes, Vanessa Barnes Hillian, Fay D.
Bellamy, Lisa Bellamy, Dawoud Bey, Hart Leroy Bibbs, Bonnie Brisset, Barbara Brown, Lisa Brown, Millie Burns, Muriel Agatha Fortune Bush, Cynthia D. Cole, Juanita Cole, Cary Beth Cryor, Tere L. Cuesta, Fikisha Cumbo, Phyllis Cunningham, Pat Davis, Carmen DeJesus, Lydia Ann Douglas, Barbara Dumetz, Joan Eda, Sharon Farmer, Phoebe Farris, Valeria "Mikki" Ferrill, Collette V. Freeman, Rennie George, Bernadette F. Gibson, Anthony Gleaton, Dorothy Gloster, Lydia Hale-Hammond, Gail Adelle Hansberry, Inge Hardison, Teenie Harris, Madeleine Hill, Zebonia Hood, Vera Jackson, Louise Jefferson, Michelle M.
Jeffries, Brent Jones, Brian V. Jones, Julia Jones, Kenneth G. Jones, Leah Jaynes Karp, Irene C.
Kellogg, Lucius King, Romulo Lachatanere, Allie Sharon Larkin, George Larkins, Archy La Salle, Abe C. Lavalais, Joyce Lee, Sa'Longo J. Lewis, Harvey James Lewis, Matthew Lewis, Roy Lewis, Fern Logan, Edie Lynch, Peter Magubane, Jimmie Mannas, Louise Martin, Mickey Mathis, Carroll T. Maynard, Rhashidah Elaine McNeill, Marlene Montoute, Michelle Morgan, Jeanne Moutoussamy-Ashe, Marilyn Nance, Yvonne Payne, Patricia Phipps, Ellen Queen, Phillda Ragland, Arkili-Casundria Ramsess, Odetta Rogers, Veronica Saddler, Lloyd Saunders, Cheryl Shackelton, Victoria Simmons, Coreen Simpson, Lorna Simpson, Clarissa T. Sligh, Ming Smith, Toni Smith, Charlynn Spencer Pyne, Jo Moore Stewart, Celeste P. Stokes, Elisabeth Sunday, Elaine Tomlin, Sandra Turner-Bond, Jacqueline La Vetta Van Sertima, Dixie Vereen, William Onikwa Wallace, Sharon Watson-Mauro, Carrie Mae Weems, Dolores West, Judith C. White, Elizabeth "Tex" Williams, Lucy Williams, Pat Ward Williams, Deborah Willis, Carol R. Wilson, Jonni Mae Wingard, Ernest Withers, and many, many others. Not all listed in this description, but all individual photographers are cross-listed. Large stout 4to, pictorial boards, no d. Retired Chicago Sun-Times photographer Bob Black was inducted Friday into the National Association of Black Journalists' Hall of Fame.
Black, who worked for the Sun-Times for 38 years after starting at the Chicago Defender, was honored in Aventura, Florida, at the NABJ's yearly convention, along with others including Tom Joyner, the longtime Chicago radio host known as "The Fly Jock" for the years he commuted between Chicago and Dallas to host daily shows in both cities at the same time. All were cited for "significant contributions to not only their respective fields within the journalism community but also in the black community worldwide, " according to Sarah Glover, president of the organization. They have blazed trails and opened doors that have helped black journalists who have come after them to thrive and survive in the industry. The NABJ singled out Black for his photos capturing key historical moments such as the aftermath of Martin Luther King Jr. S assassination" and also pointed to his work as "a mentor to many NABJ college students.
Bob Black's Pink Slip: A Color Thing? Years ago we used to ride into the night with Bob Black. He was the photographer and wheelman, we carried the notepad, and as the two of us hurtled toward whatever mayhem the Sun-Times's night desk had sicced us on, that happy warrior enlightened this young newcomer to Chicago on the ways of the city and the ways of the world. Bob Black is 53 now and almost half his lifetime has been given to the Sun-Times.
But last week Black was fired for a gross breach of trust. " But "our records show Mr. Black continued to use the company's Federal Express account for personal business on at least a dozen additional occasions. Black called us the day after he was fired.
He said, Over the years I've been using the Fed Ex number at work to send out various things, one of them a project,'Songs of My People,' a photo documentation of the African American experience. Or when people feature my work or ask me to speak, as one of the few African Americans doing my work, they'd ask for biographical information.
I thought, well, it's OK to use the Sun-Times's Fed Ex number. They always wanted it yesterday. Best of Chicago voting is live now. Vote for your favorites >>.
The company is using the number'78 times' over a period of three years. The company takes the position I stole services from the Sun-Times. The [Chicago Newspaper] Guild takes the position it was a case of bad judgment, which I have admitted to. That didn't seem to work. Normally the Sun-Times refuses to comment on personnel matters.
It changed its policy with Bob Black because "unfortunately"-management's word-Black's dismissal has become something of a public issue. Stories on Bob Black have appeared twice on the front page of the Chicago Defender. Last Saturday Operation PUSH called for a Sun-Times boycott. The Chicago Association of Black Journalists wrote editor Dennis Britton asserting that Black had not been treated fairly and asking for his reinstatement. African American colleagues at the Sun-Times submitted a letter urging management to reconsider.
We asked the Chicago Newspaper Guild's executive director, Gerald Minkkinen. The guild is grieving to save Black's job, and short of that to get him dismissal pay. "If you're asking me if I think the dismissal was racially motivated, I don't see any evidence of it, " Minkkinen replied.
I have to be honest. Would they have dismissed a white employee for having done the same things?
Black isn't so sure. Put yourself in his shoes. You do a good job for 25 years, and then you're drummed out in disgrace. You'd fight back too, any way you could. To Black, race was both an explanation and the weapon at hand.
The Sun-Times doesn't understand where they get their basic readership from. It's the black community. They don't seem to understand that, Black told us. They're always going after the suburbs.
Is this a racial issue? Well, you know, to say it's cut and dried would be hard, but in my experience I've never known them to do this to any of the white staffers.
I'm senior man in the photo department. I happen to be African American. It's not something that has to be resolved in this way.
They could have asked for reimbursement, and that should have been the end of it. But they want to make me out to be a common thief, and I'm not.
We asked a black colleague of Black's who signed the letter protesting his dismissal. The colleague said it wasn't but went on, Bob is one of our own. It is incumbent upon us to weigh in when we feel one of our own has been wronged. We are a minority, and if we don't stand up for ourselves no one will. Does anyone else there feel as strongly as the blacks do?
We haven't talked to anyone else. I do know some of my white colleagues have said that they feel Bob has been wronged.
They've expressed basically the same idea that the punishment was too harsh for an employee of his background. Will they act on that conviction?
They will leave it to the union leadership to handle. And that disappoints you, we said. I'm the type of person who never expects anyone to stick their neck out. Nothing's more dreadful than a lockstep press.
Disagreement should reign and up out of the froth will eventually bob the truth. And yet we were sort of hoping the pundits of America would speak with one voice in hailing the new economic program of President Clinton. We liked his reforms philosophically without having any idea whether they'd actually work. We think it's pretty crucial that they do, and that's what we wanted to hear. The speech itself was reverently reported on front pages everywhere. The Tribune was especially grand: Seeking to reshape the economic and social destiny of the nation at the end of the Cold War, Bill Clinton risked his young presidency Wednesday night by challenging a nation at peace to sacrifice for domestic renewal. But the president's credibility was already under attack. "Not Leveling Gave Clinton Uphill Job, " said the headline to a Jeff Greenfield column in the Sun-Times the day before Clinton's speech.
"What's upsetting about Clinton's economic proposals isn't so much the content as the dishonesty of it all, " said the same paper's Dennis Byrne the morning after. Clinton operated on the principle that you should say whatever you must to get yourself elected.
" George Will concluded that Clinton's presidential campaign had been "the most disingenuous since at least 1964. But then came a volley of headlines that rang like fanfares! Tribune: Greenspan says Clinton's budget plan is'credible. " Sun-Times editorial: "Industrial Policy Is Right for America.
" Sun-Times: "Economic Allies Back Clinton's Program. " Tribune: "Builders warm to Clinton's plan. " New York Times: "Clinton Blueprint Wins New Respect-Emphasis on Shared Sacrifice Pleases Business Leaders.
" New York Times: "Bentsen Sits Tall at Group of 7 Talks-Clinton's plans gave the U. New credibility with its trading partners. " New York Times: "Cheers From States for Clinton's Plan. Herbert Stein, a former chairman of the President's Council of Economic Advisers, said in the New York Times: Bill Clinton's economic program is probably the most far-reaching effort ever made by a President to control the Federal budget deficit.
" Robert Eisner, past president of the American Economic Association, wrote in the Tribune: "President Clinton's economic plan is generally a winner. It charts a basically new direction. But there were other voices. Consider these three headlines from the same page of the Tribune: Over a Joan Beck column, "Clinton's Rx for'change' may be just a placebo"; over a Stephen Chapman column, "Clinton stands for thrift, except when he wants to spend"; over a David Broder column, Clinton plan is in danger of causing another deficit: Public trust.
A Boston Globe columnist appearing in the naysaying Tribune asserted: It is possible to agree with every measure President Clinton set out in his talk last week and still consider the speech a smug disaster. Aside from abandoning nearly every campaign promise it made to get elected, the Clinton administration is notable so far mainly for its determination to put Democrats everywhere and its willingness to use politics anywhere. Eugene Kennedy wrote in the Tribune: It is. This statement, whether intended or not, telegraphs a disdain for the dignity of the American people on a par with that of the infomercial host who varnishes heads to cure baldness. But an occasional pundit tried to square the circle. Commented the Tribune's John McCarron: Nobody's telling it like it is, beginning with Bill Clinton. But he's being a lot more honest than those who pine for the'12 fat years' of Reagan-Bush. "The public seems far ahead of the politicians in wanting change, " observed the Tribune's William Neikirk. It doesn't even seem to matter that Clinton broke a slew of campaign promises or gave a distorted picture of his plan in his speech to Congress, or failed to mention that the final cost of the savings and loan bailout are not included in his plan. All is forgiven by a populace eager to be led. The press's emergent position seems to be this: the patent medicine might actually do some good, but don't trust the confidence man peddling it. We advise Clinton to pay attention to his clipping service. The images are in black and white, and in color. They capture decades of Chicago history. They're now all in one book. Morning Insider Jim Williams tells us the book's editors dug deep into the Chicago Sun-Times photo archive to depict Chicago history captured by extraordinary photojournalists. Bob Black was in his car when a bulletin came over the radio. I said'oh, Lord,' and so I had to pull over to side of the curb to digest what I had just heard, he said. Black, in his late 20s, himself grieving, went to a South Side church with his camera in hand.
You didn't want to become intrusive. You didn't want people to notice you, he said.
Only one month into his job as a Chicago Sun-Times photographer he photographed one of the people mourning King's murder. It said to me this person was grieving from the depths of their soul. And that's the way I was feeling, Black said. Bob Black's work is among the photos in the new book "Chicago Exposed, " all from the Chicago Sun-Times photo archive. From the euphoria of World War II's end to Mamie Till Bradley's agony when her the body of her murdered son, Emmett Till, arrived back in Chicago from Mississippi. From the unrest outside the 1968 Democratic National Convention to the unrest after the killing of George Floyd.
Richard Cahan is the book's co editor, and for many years he was the picture editor at the Sun-Times. "When you think back in your life, if you grew in Chicago, you think about these events, and you oftentimes associate them with visual pictures, " he said. We had the ideal location for our interviews: the Chicago History Museum. In 2018, the Chicago History Museum acquired the Sun-Times photo archive. Five million images; a treasure trove of Chicago history.
Some of these photos are in "Chicago Exposed, " accompanied by essays; some penned by people in the photos, or historians, or those who took the pictures. WILLIAMS: This is what you wrote:'The photo helped me cope. I grew up in this community and was connected to the church.
"Chicago Exposed" is a visual chronicle of the city's history, and a tribute to the men and women whose work fills these pages. It was my dream job, Black said. Bob Black retired from the Sun-Times in 2006, but said he still takes photos. You can get "Chicago Exposed" online or at bookstores. It was a historic event. Four of Chicago's most-esteemed photographers - Bob Black, Ovie Carter, John White and Howard Simmons - gathered for a once-in-a-lifetime event during the National Association of Black Journalists Chicago Chapter's Oct. 23 forum celebrating photojournalism, held at Bar Louie in the South Loop. The trailblazers, among the first black staff photographers to work at major Chicago daily newspapers, discussed their careers, friendship and techniques used to capture some of their best work. "It's humbling for me to be in the company of these guys because they're superb photographers and they're true gentlemen, " said Simmons, 76, who worked as a staff photographer for Ebony magazine and the Chicago Sun-Times.
Simmons said he started working at the Sun-Times after White, who already worked there, made the suggestion. White's looking out for Simmons is another testament to the respect the men always had for each other. There's a harmony that bonds us and binds us. They're my colleagues but they're my brothers, said White, 74, who won the 1982 Pulitzer Prize for feature photography while at the Sun-Times.
No other photo captures this bond more than a selfie the men took in 1973. Simmons, White, Carter and Black positioned a camera on the sidewalk and used a timer to take a photo of themselves on the front steps of the South Side Community Arts Center to promote their exhibit, Through the Eyes of Blackness. More than 40 years later, the men re-created that shot in a poignant, much lauded, time-warp photo.
"We wanted to have a signature photograph, " Simmons explained. As photojournalists, the men were often the first ones on the scene, capturing tragedies, celebrations and everyday life for many around Chicagoland. They also turned their lens on key historical moments such as Black's documenting the aftermath of Martin Luther King Jr. Nicknamed "Legend" by the other men, Black, 80, began his career in 1965 at the Chicago Daily Defender, and in 1968, became the first black photographer hired at the Sun-Times. A co-founder of the Chicago Alliance of African American Photographers and the NABJ Visual Task Force, Black was inducted into the 2019 NABJ Hall of Fame.
White isn't the only Pulitzer Prize winner among these photojournalists. Carter, 73, who began his career as a photographer at the Chicago Tribune in 1969, won the Pulitzer Prize in international reporting with fellow reporter William Mullen for their coverage of famine in parts of Africa and India. Carter also was a member of the Tribune team that won the 2001 Pulitzer Prize for explanatory reporting. I had some vision about the kind of photography that I wanted to do. [I had] on-the-job-training and got off to a good start, Carter said about getting himself hired by the Tribune.
Today, as the widely respected elders in the field, the men continue to mentor, shoot captivating images, and are even contemplating exhibiting their work together again. Didn't like it at first, White said. Our Goal Is To Support And Promote The Art And Science Of Photography In All Styles And Formats, As Individuals, As An Organization, And As Part Of The Community So That All May Enjoy And Benefit From The Images Of Our Lives.
Historic shoot for Black Artists at SSCAC Painters, sculptors, photographers, and numerous other visual artists gathered for a historic photo shoot May 28, 05 on the steps of the South Side Community Art Center. The mission of the Chicago Alliance of African-American Photographers is. To promote the work of professional and amateur photographers through sponsored exhibitions, publications, lectures and education in the field of photography, and its related genre. To Use our photographic images and expertise to inform the public and our community about the importance of photography as an informative and creative medium of expression. CAAAP is open to all commercial, fine art, freelance.
And newspaper photographers interested in supporting these efforts. The Chicago Alliance of African-American Photographers (CAAAP) founded on March 8, 1999, by seven photographers; Leslie Adkins, Bob Black, Martha Brock, Milbert O.
Terry Harris, Brent Jones and Lee Landry. Their initial goal was to document Chicago's African-American communities at the turn of the 21st Century.
The primary objectives of the organization grew to unify Chicago based professional African-American photographers, and promote the art of photography through exhibitions, lectures and educational programs. The membership of the Chicago Alliance of African-American Photographers is composed of commercial, fine art, freelance, documentary, newspaper photojournalists, and amateur photographers. Their talents cover the full spectrum of photography from street artists and news, to studio photography.
Although many of our members are established professionals, some are hobbyists. However, all of our members share a passion for the art of photography, and it's power to inform, educate and record history.
Our membership has included three Pulitzer Prize-winning photojournalists, and a former Chicago Tribune photojournalist named Ovie Carter, who won the 1975 Pulitzer for International Reporting. And Ovie Carter were members of the Chicago Tribune's 2001 Pulitzer Prize-winning team for Explanatory Reporting. The Chicago Sun-Times' John H.
White, won the 1982 Pulitzer Prize for Feature Photography. The original project, "The Journey: The Next 100 Years", was a photographic project documenting the culture and lifestyles of Greater Chicago's African-American communities at the beginning of a new millennium.
Over 50 African-American photographers from Chicago produced compelling black and white images of the first year of the'new' century. In 2001, The Journey: The Next 100 Years; was a featured photographic exhibition that opened concurrently at Chicago's Museum of Contemporary Art, and the'legendary,' community-based institution: The South Side Community Art Center in the Bronzeville neighborhood of Chicago. Over the next twenty-four months, the exhibit traveled throughout the Chicago metropolitan area where these powerful images exhibited at public libraries, art galleries, universities, and museums. Over the ensuing years, CAAAP members and their photographs were featured in local, national, and international publications, including the Chicago Defender, Chicago Tribune, Chicago Sun-Times, The New York Times, Black Enterprise Magazine, and Ebony/Jet Magazines. Members have participated in educational lectures and exhibits at Loyola University, Northwestern University, University of Illinois - Chicago and Roosevelt University. Our members have also made appearances on local media, radio, and television, and interviewed in Vibe Magazine, and The New York Times. In 2006, CAAAP produced and published a book of the project "The Journey: The Next 100 Years"; featuring over 300 images by 70 CAAAP members from 2000 through 2005. In 2006, with funding provided from the Chicago Tribune Foundation, assistance from Roosevelt University, and the Chicago History Museum, CAAAP produced and published a book of the project "The Journey: The Next 100 Years"; featuring over 300 images, produced by 70 CAAAP members from 2000 through 2005. Ob Black's photojournalism career started with the Chicago Daily Defender in 1965. He later joined the Chicago Sun-Times in 1968 where he worked for 38 years until retirement. Bob Black was honored with a first place award from the World Press Foundation of Amsterdam, The Netherlands. In 1990 Black was one of 50 photographers contributing to the land mark project, "Songs of My People, " resulting in a book and a traveling exhibit. He is one of the founders of the Chicago Alliance of African American Photographers. (CAAAP) as well a co-founder of the National Association of Black Journalists (NABJ) VisualTask Force (VTF). Bob has been the recipient of numerous awards, including collecting first place at the World Press Photo Competition. CHICAGO ALLIANCE OF AFRICAN AMERICAN PHOTOGRAPHERS.
We Matter documents the local protests set off by the death of George Floyd in 2020. United in solidarity, demonstrators throughout Chicago and the U.
Took to the streets to denounce the failures of systemic racism and colonialism and to fight against racial oppression and police brutality. The members of CAAAP and other Chicago photographers have captured these protests that have inspired demands for social policy change and economic accountability. The exhibition, We Matter, validates that We are intolerant of infrastructures that support racism in America. The word WE in the title represents the collective voices of protest. A Brief History of the Chicago Alliance of African American Photographers. The Chicago Alliance of African American Photographers began 21 years ago when seven of Chicago's best photographers created a place for black photographers within the Chicagoland area to cultivate and celebrate black culture and curate diasporic photographic arts.
The founding members include: Leslie Adkins, Bob Black, Martha Brock, Milbert O. CAAAP continues to increase its membership and create educational photography programs for the African-American Community.
Series I: Original Interview Footage. Video Oral History Interview with Bob Black, Section A2003_010_001_001, TRT: 0:29:10. Bob Black was born on June 4, 1939 to Elaine Curry Black (later Martin) and. His mother was born around 1919 to Janie Curry and.
Robert Curry, in Chicago, Illinois and worked as a hair stylist. Born around 1918 to Marie Black and Clarence Black, Sr. Black's parents met while attending Berean Baptist Church in Chicago. During World War II, his father fought in the Philippines. Was a musician and a pillar in the church, and later remarried to Herbert Martin. Black grew up in the Washington Park neighborhood of Chicago, where he.
Carter Elementary School and Englewood High School. Was active in his school's safety patrol and in the Boy Scouts, where he was a. Staff member at Camp Blackhawk on the Owasippe Scout Reservation in Twin.
Lake, Michigan and a member of the Order of the Arrow. Arnold, Clarence, and David were also Boy Scouts. Video Oral History Interview with Bob Black, Section A2003_010_001_002, TRT: 0:29:41.
Bob Black and his brothers were members of the Boy Scouts and the drum and. Bugle corps of the American Legion Post. They were also mentored by two. Teachers who lived in the area: Emma Stacker and Mrs. High School, Black was a member of the choir and ROTC as well as friends. At this time, he also started learning. About photography from the members of the Berean Baptist Church camera club. Including Reverend William Vance, Bobby Orr, and Billy Lites. Black use their equipment and mentored him.
Black graduated from high school. In 1957 and began freelancing for the Chicago Defender, where he met. Photojournalists Cleo Lyles and Tony Rhoden.
In the early 1960s, Black joined. The Illinois National Guard to avoid fighting in the Vietnam War. Initially an Infantryman in the 8th Regiment, but joined the Signal Corps after. Integration and was placed in the photography unit. Video Oral History Interview with Bob Black, Section A2003_010_001_003, TRT: 0:29:10.
Bob Black began working at the Chicago Defender shortly after his high school. Graduation in 1957 as a contributor to its Teen Page. He continued to work as. A freelancer, learning from photojournalists Cleo Lyle and Tony Rhoden and. Inspired by HistoryMaker Gordon Parks' photos in Life Magazine. 1960s, Black became a photographer for the Illinois National Guard.
Black was hired by HistoryMaker Robert Sengstacke as a full-time photographer. For the Chicago Defender, where he worked with reporters including Dave Potter. And Betty Washington and covered Father James Groppi and the Milwaukee. In 1968, Black used his position in the Illinois National.
Guard to take photographs of the riots in Chicago, Illinois after the assassination. After the riots, Bob Langer hired Black. Black was the second African American. Photojournalist to work for a white Chicago newspaper, following his friend and.
Video Oral History Interview with Bob Black, Section A2003_010_001_004, TRT: 0:28:00. Bob Black continued to work for the Chicago Sun-Times, where his daily. Schedule took him to crime scenes, political functions, accidents, and society.
He reflects upon the changes caused by digital cameras and phones. As well as the dangers of being a first responder. He has put himself in for stories, including the police brutality he faced while. Covering the 1968 Democratic National Convention, houses on fire, and horrific. He describes two events that he covered, the 1968 North Central.
Airlines crash at O'Hare International Airport and the 1972 Illinois Central Gulf. Train crash in Chicago, Illinois, and reflects upon the ethical question of whether. He would save someone's life or take a picture first if forced to choose. Names some of the remarkable people he met and photographed, including. Finding Aid to The HistoryMakers.
And Chicago Mayor Harold Washington. Video Oral History Interview with Bob Black, Section A2003_010_002_005, TRT: 0:31:12.
Bob Black narrates his photographs. Video Oral History Interview with Bob Black, Section A2003_010_002_006, TRT: 0:13:04. Bob Black continues to narrate his photographs.
This item is in the category "Collectibles\Photographic Images\Photographs". The seller is "memorabilia111" and is located in this country: US.
This item can be shipped to United States, New Zealand, Fiji, Papua New Guinea, Wallis and Futuna, Gambia, Malaysia, Taiwan, Poland, Oman, Suriname, United Arab Emirates, Kenya, Argentina, Guinea-Bissau, Armenia, Uzbekistan, Bhutan, Senegal, Togo, Ireland, Qatar, Burundi, Netherlands, Slovakia, Slovenia, Equatorial Guinea, Thailand, Aruba, Sweden, Iceland, Macedonia, Belgium, Israel, Liechtenstein, Kuwait, Benin, Algeria, Antigua and Barbuda, Swaziland, Italy, Tanzania, Pakistan, Burkina Faso, Panama, Singapore, Kyrgyzstan, Switzerland, Djibouti, Chile, China, Mali, Botswana, Republic of Croatia, Cambodia, Indonesia, Portugal, Tajikistan, Vietnam, Malta, Cayman Islands, Paraguay, Saint Helena, Cyprus, Seychelles, Rwanda, Bangladesh, Australia, Austria, Sri Lanka, Gabon Republic, Zimbabwe, Bulgaria, Czech Republic, Norway, Côte d'Ivoire (Ivory Coast), Kiribati, Turkmenistan, Grenada, Greece, Haiti, Greenland, Yemen, Afghanistan, Montenegro, Mongolia, Nepal, Bahamas, Bahrain, United Kingdom, Bosnia and Herzegovina, Hungary, Angola, Western Samoa, France, Mozambique, Namibia, Peru, Denmark, Guatemala, Solomon Islands, Vatican City State, Sierra Leone, Nauru, Anguilla, El Salvador, Dominican Republic, Cameroon, Guyana, Azerbaijan Republic, Macau, Georgia, Tonga, San Marino, Eritrea, Saint Kitts-Nevis, Morocco, Saint Vincent and the Grenadines, Mauritania, Belize, Philippines, Democratic Republic of the Congo, Republic of the Congo, Colombia, Spain, Estonia, Bermuda, Montserrat, Zambia, South Korea, Vanuatu, Ecuador, Albania, Ethiopia, Monaco, Niger, Laos, Ghana, Cape Verde Islands, Moldova, Madagascar, Saint Pierre and Miquelon, Lebanon, Liberia, Bolivia, Maldives, Gibraltar, Hong Kong, Central African Republic, Lesotho, Nigeria, Mauritius, Saint Lucia, Jordan, Guinea, Canada, Turks and Caicos Islands, Chad, Andorra, Romania, Costa Rica, India, Mexico, Serbia, Kazakhstan, Saudi Arabia, Japan, Lithuania, Trinidad and Tobago, Malawi, Nicaragua, Finland, Tunisia, Uganda, Luxembourg, Brazil, Turkey, Germany, Egypt, Latvia, Jamaica, South Africa, Brunei Darussalam, Honduras.
Type: Photograph
Country/Region of Manufacture: United States

---