Lg Modernist Expressionist African American Oil Pastel Painting Sad Black Woman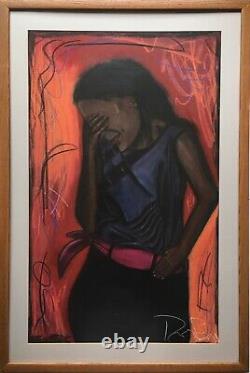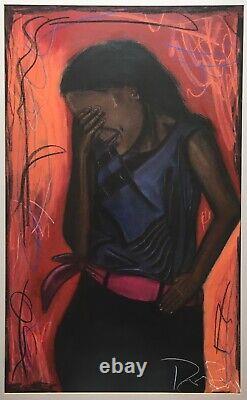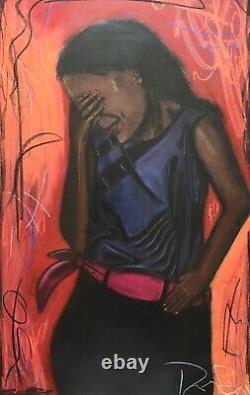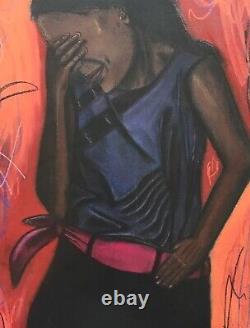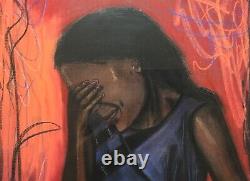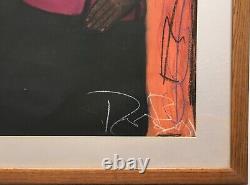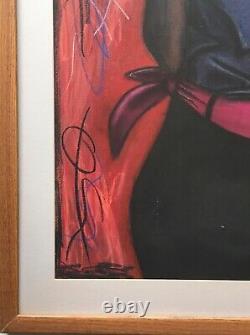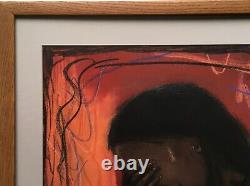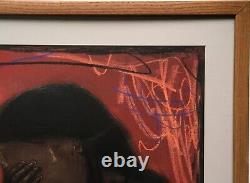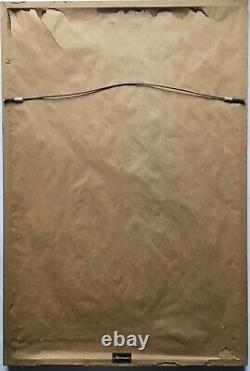 Depicte a thought provoking culturally relevant portrait of a sad Black American woman with her head down in her hand. She is wearing a purple sleeveless shirt ans pink silk belt and looks to be very upset. Her left hand rest on her side as she perhaps mourns the loss of a loved one. This pairs with another pastel by the dame artist of an African American doctor in scrubs and mask.
Very well done with bold and exact lines. Vigorous, yet controlled and smooth flowing. Great capture of light, shadow and emotion. Medium is oil pastels on textured paper done in a Modernist/Expressionist style. Signed by the artist in the bottom right corner.
Provenance comes from our recent. Clean, crisp, bright and vibrant with no holes, rips, tears, damage or wear.
Shows some gentle pastel loss with residue on the underside of the glass. Protected behind glass, professionally matted and framed in a contemporary oak wood frame.
Backed with brown paper and ready to hang. Measures 32" x 20" and 37 1/2" x 25 1/2" with the frame.
Please enjoy the photos for further item details and if you have any questions feel free to ask. Thank you and be sure to check out our other listings!

---