RARE Engraved portrait Black African-American Reconstruction Congress print 1883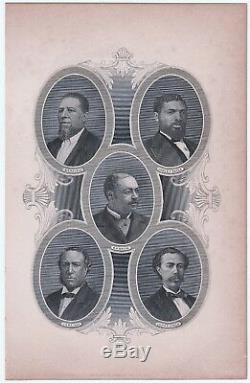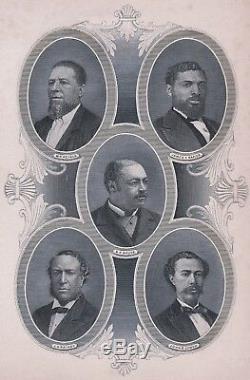 Engraved Portrait of Reconstruction era. African American Members of Congress. For offer, a rare old print. Fresh from a prominent estate in Upstate NY.
Never offered on the market until now. Vintage, Old, Original, Antique, NOT a Reproduction - Guaranteed!! I recently came across several rare piece of Black Americana, including a broadside, and slave documents in a local estate.
Please see my other listings. Engraving, 9 1/4 x 6 inches. New York, circa early 1880s. Portraits of five important African-American legislators from the Reconstruction era.
Rainey of South Carolina was the first African-American representative in Congress, and James T. Rapier was one of the first from Alabama. The other three were Mississippians: Hiram R. Revels was the state''s first African-American senator; Blanch K. Bruce was their first to serve a full term; and John R. Lynch was their first United States Representative. At least one other copy has a Wellstood imprint in the lower margin (which this one has), though some do not. First appears in the New York directories in 1879, though the family had been engravers there for many years previous, and we would guess this print was probably produced before the death of Revels in 1883. The print offered through Swann was trimmed, and did not have the engraver imprint at bottom, and I feel the print offered by me here is better than the one they offered because it has this. In good to very good condition. Minor age toning, very light foxing. If you collect 19th century Americana history, American culture, politics, etc. This is a treasure you will not see again! Add this to your image or paper / ephemera collection. The first African Americans to serve in the United States Congress were Republicans elected during the Reconstruction Era. After slaves were emancipated and granted citizenship rights, freedmen gained political representation in the Southern United States for the first time. White Democrats regained political power in state legislatures across the South and worked to restore white supremacy.
By the presidential election of 1876, only three state legislatures were not controlled by white Democrats. The Compromise of 1877 completed the period of Redemption by white Democratic Southerners, with the withdrawal of federal troops from the South. State legislatures began to pass Jim Crow laws to establish racial segregation and restrict labor rights, movement and organizing by blacks.
They passed some laws to restrict voter registration, aimed at suppressing the black vote. The Democratic Party essentially dominated the "Solid South" until the 1990s. As a result of the Civil Rights Movement, the U. Congress passed laws in the mid-1960s to end segregation and enforce constitutional civil rights and voting rights. During two waves of massive migration within the United States in the first half of the 20th century, more than 6 million African Americans moved from the South to Northeastern, Midwestern and Western industrial cities, with 5 million migrating from 1940 to 1970.
Some were elected to national political office from their new locations. During the Great Depression, many black voters switched allegiances from the Republican Party to the Democratic Party, in support of the New Deal economic, social network, and work policies of Franklin D. This trend continued in the 1960s when the national Democratic Party supported the civil rights legislation to enforce constitutional rights. At the same time, there was a different movement among whites in the South, who began to vote for Republican candidates for national and then state offices.
A total of 153 African Americans have served in the United States Congress, mostly in the United States House of Representatives. This includes six non-voting members of the House of Representatives who have represented the District of Columbia and the U.
In addition, John Willis Menard was elected to the House of Representatives in 1868, and P. Pinchback was elected both to the House of Representatives and the Senate in 1872, but neither was seated due to election disputes.
Ten African Americans have served in the U. Senate, four in the Republican Party. Two African Americans served as Senators from Mississippi during the Reconstruction Era and one from Massachusetts during the 1960s and 1970s.
The remaining seven served more recently: six Democrats, three from Illinois (including Barack Obama) and one each from Massachusetts, New Jersey and California; and one Republican from South Carolina. January 25, 1870, letter from the Governor and Secretary of State of Mississippi that certified the election of Hiram Rhodes Revels to the Senate. First black Senator and Representatives: Sen. Turner (R-AL), Robert DeLarge (R-SC), Josiah Walls (R-FL), Jefferson Long (R-GA), Joseph Rainey and Robert B. The right of blacks to vote and to serve in the United States Congress was established after the Civil War by amendments to the Constitution. The Thirteenth Amendment (ratified December 6, 1865), abolished slavery.
The Fourteenth Amendment (ratified July 9, 1868) made all people born or naturalized in the United States citizens. The Fifteenth Amendment (ratified February 3, 1870) forbade the denial or abridgment of the right to vote on account of race, color, or previous condition of servitude, and gave Congress the power to enforce the law by appropriate legislation. In 1866, Congress passed the Civil Rights Act and the four Reconstruction Acts, which dissolved all governments in the former Confederate states with the exception of Tennessee. It divided the South into five military districts, where the military through the Freedmen's Bureau helped protect the rights and safety of newly freed blacks. The act required that the former Confederate states ratify their constitutions conferring citizenship rights on blacks or forfeit their representation in Congress.
As a result of these measures, blacks acquired the right to vote across the Southern states. In several states (notably Mississippi and South Carolina), blacks were the majority of the population.
By forming coalitions with pro-Union whites, Republicans took control of the state legislatures. At the time, state legislatures elected the members of the US Senate. During Reconstruction, only the state legislature of Mississippi elected any black senators. On February 25, 1870, Hiram Rhodes Revels was seated as the first black member of the Senate, while Blanche Bruce, also of Mississippi, seated in 1875, was the second. Revels was the first black member of the Congress overall.
Blacks were a majority of the population in many congressional districts across the South. In 1870, Joseph Rainey of South Carolina was elected to the U. House of Representatives, becoming the first directly elected black member of Congress to be seated.
[2] Blacks were elected to national office also from Alabama, Florida, Georgia, Louisiana, Mississippi, North Carolina and Virginia. All of these Reconstruction era black senators and representatives were members of the Republican Party. The Republicans represented the party of Abraham Lincoln and of emancipation. The Southern Democrats represented the party of planters, slavery and secession. From 1868, southern elections were accompanied by increasing violence, especially in Louisiana, Mississippi and the Carolinas, in an effort by Democrats to suppress black voting and regain power.
In the mid-1870s, paramilitary groups such as the White League and Red Shirts worked openly to turn Republicans out of office and intimidate blacks from voting. This followed the earlier years of secret vigilante action by the Ku Klux Klan against freedmen and allied whites.
After the disputed Presidential election of 1876 between Democratic Samuel J. Tilden, governor of New York, and Republican Rutherford B. Hayes, governor of Ohio, a national agreement between Democratic and Republican factions was negotiated, resulting in the Compromise of 1877.
Under the compromise, Democrats conceded the election to Hayes and promised to acknowledge the political rights of blacks; Republicans agreed to withdraw federal troops from the South and promised to appropriate a portion of federal monies toward Southern projects. With the Southern states "redeemed", Democrats gradually regained control of Southern legislatures.
By the 1880s, legislators increased restrictions on black voters through voter registration and election rules. In 1888 John Mercer Langston, president of Virginia State University at Petersburg, was elected to the U. Congress as the first African American from Virginia and the last for nearly a century after the state passed a disenfranchising constitution at the turn of the century, excluding blacks from politics for decades. Starting with the Florida Constitution of 1885, white Democrats passed new constitutions in ten Southern states with provisions that restricted voter registration and forced hundreds of thousands of people from registration rolls.
These changes effectively prevented most blacks and many poor whites from voting. Many whites who were also illiterate were exempted from such requirements as literacy tests by such strategies as the grandfather clause, basing eligibility on an ancestor's voting status as of 1866, for instance.
Southern state and local legislatures also passed Jim Crow laws that segregated transportation, public facilities and daily life. Finally, racial violence in the form of lynchings and race riots increased in frequency, reaching a peak in the last decade of the 19th century. The last black congressman elected from the South in the 19th century was George Henry White of North Carolina, elected in 1896 and re-elected in 1898.
His term expired in 1901, the same year that William McKinley, who was the last president to have fought in the Civil War, died. No blacks served in Congress for the next 28 years, and none represented any Southern state for the next 72 years. Map of congressional districts currently represented by African-Americans. From 1910 to 1940, the Great Migration of blacks from the rural south to northern cities such as New York, Philadelphia, Chicago, Detroit, and Cleveland began to produce black-majority Congressional districts in the North.
Blacks could exercise their right to vote. In the two waves of the Great Migration through 1970, more than six and a half million blacks moved north and west and became highly urbanized. In 1928, Oscar De Priest won the 1st Congressional District of Illinois (the South Side of Chicago) as a Republican, becoming the first black Congressman of the modern era. DePriest was also the last black Republican elected to the House for 56 years. The election of President Franklin D. Roosevelt in 1932 led to a shift of black voting loyalties from Republican to Democrat, as Roosevelt's New Deal programs offered economic relief to people suffering from the Great Depression.
From 1940 to 1970, nearly five million blacks moved north and also west, especially to California, in the second wave of the Great Migration. By the 1960s, virtually all black voters were Democrats, and most were voting in states outside the former Confederacy. It was not until after passage by Congress of the Voting Rights Act of 1965, the result of years of effort on the part of African Americans and allies in the Civil Rights Movement, that blacks within the Southern states recovered their ability to exercise their rights to vote and to live with full civil rights.
Accomplishing voter registration and redistricting to implement the sense of the law took more time. The only Southern cities to have black majority districts were Atlanta, Houston, Memphis and New Orleans. By that time, the only Southern rural area to have a black majority district was the Mississippi Delta area in Mississippi. Until 1992, most black House members were elected from inner-city districts in the North and West: New York City, Newark, New Jersey, Philadelphia, Baltimore, Chicago, Cleveland, Detroit, St.
Louis and Los Angeles all elected at least one black member. Following the 1990 census, Congressional districts needed to be redrawn due to the population shifts of the country. Various federal court decisions resulted in states' creating districts to provide for some where the majority of the population were African Americans, rather than gerrymandering to exclude black majorities. Historically, both parties have used gerrymandering to gain political advantage, by drawing districts to favor their own party. In this case, some districts were created to link widely separated black communities.
As a result, several black Democratic members of the House were elected from new districts in Alabama, Florida, rural Georgia, rural Louisiana, North Carolina, South Carolina and Virginia for the first time since Reconstruction. Additional black-majority districts were also created in this way in California, Maryland and Texas, thus increasing the number of black-majority districts.
The creation of black-majority districts was a process supported by both parties. The Democrats saw it as a means of providing social justice, as well as connecting easily to black voters who had been voting Democratic for decades.
The Republicans believed they gained by the change, as many of the Democratic voters were moved out of historically Republican-majority districts. By 2000, other demographic and cultural changes resulted in the Republicans' holding a majority of white-majority House districts. Since the 1940s, when decades of the Great Migration resulted in millions of African Americans having migrated from the South, no state has had a majority of African-American residents.
Eight African Americans have served in the Senate since the 1940s: Edward W. Brooke, a Republican from Massachusetts; Carol Moseley Braun, Barack Obama, and Roland Burris (appointed to fill a vacancy), all Democrats from Illinois; Tim Scott (initially appointed to fill a vacancy, but later elected), a Republican from South Carolina; Mo Cowan (appointed to fill a vacancy), a Democrat from Massachusetts; Cory Booker, a Democrat from New Jersey, and Kamala Harris, a Democrat from California. In the last several decades, numerous African Americans have created similar multi-racial coalitions to be elected as mayors of cities (including those without a black majority). See List of first African-American mayors.
List of African Americans in the United States Congress. Political cartoon: Revels (seated) replaces Jefferson Davis (left; dressed as Iago from Shakespeare's Othello) in the Senate. Davis had been a senator from Mississippi until 1861. Main article: List of African-American United States Senators. United States House of Representatives.
Main article: List of African-American United States Representatives. Government of the United States portal. African-American Civil Rights Movement (186595). African-American officeholders in the United States, 17891866. List of African-American United States Cabinet Secretaries.
List of first African-American mayors. Hiram Rhodes Revels (September 27, 1827[note 1] January 16, 1901) was a U.
Senator, minister in the African Methodist Episcopal Church (AME), and a college administrator. Born free in North Carolina, he later lived and worked in Ohio, where he voted before the Civil War. He became the first African American and Native American to serve in the U. Congress when he was elected to the United States Senate as a Republican to represent Mississippi in 1870 and 1871 during the Reconstruction era. During the American Civil War, Revels had helped organize two regiments of the United States Colored Troops and served as a chaplain.
After serving in the Senate, Revels was appointed as the first president of Alcorn Agricultural and Mechanical College (now Alcorn State University) and served from 1871 to 1873 and 1876 to 1882. Later in his life, he served again as a minister. Revels was born free in Fayetteville, North Carolina, to free people of color. His parents were of African and European ancestry. He was taught by a local black woman for his early education. In 1838 he went to live with his older brother, Elias B. Revels, in Lincolnton, North Carolina, and was apprenticed as a barber in his brother's shop. After Elias Revels died in 1841, his widow Mary transferred the shop to Hiram before she remarried. [citation needed] Revels attended the Union County Quaker Seminary in Indiana, and Darke County Seminary in Ohio.
[1] He was a second cousin to Lewis Sheridan Leary, one of the men who was killed taking part in John Brown's raid on Harpers Ferry and of North Carolina lawyer and politician John S. In 1845 Revels was ordained as a minister in the African Methodist Episcopal Church (AME); he served as a preacher and religious teacher throughout the Midwest: in Indiana, Illinois, Ohio, Tennessee, Missouri, and Kansas.
[1] "At times, I met with a great deal of opposition, " he later recalled. I was imprisoned in Missouri in 1854 for preaching the gospel to though I was never subjected to violence.
[3] During these years, he voted in Ohio. He studied religion from 1855 to 1857 at Knox College in Galesburg, Illinois. He became a minister in a Methodist Episcopal Church in Baltimore, Maryland, where he also served as a principal for a black high school.
As a chaplain in the United States Army, Revels helped recruit and organize two black Union regiments during the Civil War in Maryland and Missouri. He took part at the battle of Vicksburg in Mississippi.
In 1865, Revels left the AME Church and joined the Methodist Episcopal Church. He was assigned briefly to churches in Leavenworth, Kansas, and New Orleans, Louisiana. In 1866, he was called as a permanent pastor at a church in Natchez, Mississippi, where he settled with his wife and five daughters.
He became an elder in the Mississippi District of the Methodist Church, [4] continued his ministerial work, and founded schools for black children. During Reconstruction, Revels was elected alderman in Natchez in 1868. In 1869 he was elected to represent Adams County in the Mississippi State Senate. As the Congressman John R. Lynch later wrote of him in his book on Reconstruction. Revels was comparatively a new man in the community. He had recently been stationed at Natchez as pastor in charge of the A. Church, and so far as known he had never voted, had never attended a political meeting, and of course, had never made a political speech. But he was a colored man, and presumed to be a Republican, and believed to be a man of ability and considerably above the average in point of intelligence; just the man, it was thought, the Rev.
Noah Buchanan would be willing to vote for. In January 1870, Revels presented the opening prayer in the state legislature. That prayerone of the most impressive and eloquent prayers that had ever been delivered in the [Mississippi] Senate Chambermade Revels a United States Senator. He made a profound impression upon all who heard him. It impressed those who heard it that Revels was not only a man of great natural ability but that he was also a man of superior attainments.
Letter dated January 25, 1870 from the Governor of the State of Mississippi and the Secretary of State of Mississippi that certified the election of Hiram Revels to the United States Senate. At the time, as in most states, the state legislature elected U. In 1870 Revels was elected by a vote of 81 to 15 in the Mississippi State Senate to finish the term of one of the state's two seats in the US Senate, which had been left vacant since the Civil War. Previously, it had been held by Albert G. Brown, who withdrew from the US Senate in 1861 when Mississippi seceded. When Revels arrived in Washington, D. Southern Democrats opposed seating him in the Senate.
For the two days of debate, the Senate galleries were packed with spectators at this historic event. [8] The Democrats based their opposition on the 1857 Dred Scott Decision by the U. Supreme Court, which ruled that people of African ancestry were not and could not be citizens. They argued that no black man was a citizen before the 14th Amendment was ratified in 1868, and thus Revels could not satisfy the requirement of the Senate for nine years' prior citizenship. Supporters of Revels made arguments from the relatively narrow and technical to fundamental arguments about the meaning of the Civil War.
Among the narrower arguments was that Revels was of primarily European ancestry (an "octoroon") and that the Dred Scott Decision ought to be read to apply only to those blacks who were of totally African ancestry. Supporters argued that Revels had long been a citizen (and had voted in Ohio) and that he had met the nine-year requirement before the Dred Scott decision changed the rules and held that blacks could not be citizens. The more fundamental arguments by Revels supporters boiled down to this idea: that the Civil War, and the Reconstruction Amendments, had overturned Dred Scott. The meaning of the war, and also of the Amendments, was that the subordination of the black race was no longer part of the American constitutional regime and that it would be unconstitutional to bar Revels on the basis of the pre-Civil War Constitution's racist citizenship rules. [10] One Republican Senator supporting Revels mocked opponents as still fighting the "last battle-field" of that War.
Massachusetts Senator Charles Sumner said, The time has passed for argument. Nothing more need be said. For a long time it has been clear that colored persons must be senators.
"[9] Sumner, a Republican, later said, "All men are created equal, says the great Declaration, and now a great act attests this verity. Today we make the Declaration a reality. The Declaration was only half established by Independence.
The greatest duty remained behind. In assuring the equal rights of all we complete the work. On February 25, 1870, Revels, on a party-line vote of 48 to 8, with Republicans voting in favor and Democrats voting against, became the first African American to be seated in the United States Senate. [9] Everyone in the galleries stood to see him sworn in. Sumner's Massachusetts colleague, Henry Wilson, defended Revels's election, [12] and presented as evidence of its validity signatures from the clerks of the Mississippi House of Representatives and Mississippi State Senate, as well as that of Adelbert Ames, the military Governor of Mississippi. [13] Wilson argued that Revels's skin color was not a bar to Senate service, and connected the role of the Senate to Christianity's Golden Rule of doing to others as one would have done to oneself. Revels advocated compromise and moderation.
He vigorously supported racial equality and worked to reassure his fellow senators about the capability of African Americans. In his maiden speech to the Senate on March 16, 1870, he argued for the reinstatement of the black legislators of the Georgia General Assembly, who had been illegally ousted by white Democratic Party representatives. He said, I maintain that the past record of my race is a true index of the feelings which today animate them.
They aim not to elevate themselves by sacrificing one single interest of their white fellow citizens. He served on both the Committee of Education and Labor and the Committee on the District of Columbia. At the time, the Congress administered the District. Much of the Senate's attention focused on Reconstruction issues. While Radical Republicans called for continued punishment of ex-Confederates, Revels argued for amnesty and a restoration of full citizenship, provided they swore an oath of loyalty to the United States.
Political cartoon: Revels (seated) replaces Jefferson Davis (left; dressed as Iago from William Shakespeare's Othello) in US Senate. Revels' term lasted one year, February 1870 to March 3, 1871. He quietly, persistentlyalthough for the most part unsuccessfullyworked for equality. He spoke against an amendment proposed by Senator Allen G. Thurman (D-Ohio) to keep the schools of Washington, D. He nominated a young black man to the United States Military Academy; the youth was subsequently denied admission. Revels successfully championed the cause of black workers who had been barred by their color from working at the Washington Navy Yard. The northern press praised Revels for his oratorical abilities.
His conduct in the Senate, along with that of the other black Americans who had been seated in the House of Representatives, prompted a white Congressman, James G. Blaine, to write in his memoir, The colored men who took their seats in both Senate and House were as a rule studious, earnest, ambitious men, whose public conduct would be honorable to any race. [16] Revels supported bills to invest in developing infrastructure in Mississippi: to grant lands and right of way to aid the construction of the New Orleans and Northeastern Railroad 41st Congress 2nd Session S. 712, and levees on the Mississippi river 41st Congress 3rd Session S. [9] He argued for integration of schools in the District of Columbia.
Revels accepted in 1871, after his term as U. Senator expired, appointment as the first president of Alcorn Agricultural and Mechanical College (now Alcorn State University), a historically black college located in Claiborne County, Mississippi.
He taught philosophy as well. In 1873, Revels took a leave of absence from Alcorn to serve as Mississippi's secretary of state ad interim. He was dismissed from Alcorn in 1874 when he campaigned against the reelection of Governor of Mississippi Adelbert Ames. He was reappointed in 1876 by the new Democratic administration and served until his retirement in 1882[15]. On November 6, 1875, Revels wrote a letter to fellow Republican and President Ulysses S. Grant that was widely reprinted. Revels denounced Ames and the carpetbaggers for manipulating the black vote for personal benefit, and for keeping alive wartime hatreds:[17].
Since reconstruction, the masses of my people have been, as it were, enslaved in mind by unprincipled adventurers, who, caring nothing for country, were willing to stoop to anything no matter how infamous, to secure power to themselves, and perpetuate it..... My people have been told by these schemers, when men have been placed on the ticket who were notoriously corrupt and dishonest, that they must vote for them; that the salvation of the party depended upon it; that the man who scratched a ticket was not a Republican. This is only one of the many means these unprincipled demagogues have devised to perpetuate the intellectual bondage of my people.... The bitterness and hate created by the late civil strife has, in my opinion, been obliterated in this state, except perhaps in some localities, and would have long since been entirely obliterated, were it not for some unprincipled men who would keep alive the bitterness of the past, and inculcate a hatred between the races, in order that they may aggrandize themselves by office, and its emoluments, to control my people, the effect of which is to degrade them. Revels remained active as a Methodist Episcopal minister in Holly Springs, Mississippi and became an elder in the Upper Mississippi District.
[4] For a time, he served as editor of the Southwestern Christian Advocate, the newspaper of the Methodist Church. He taught theology at Shaw College (now Rust College), a historically black college founded in 1866 in Holly Springs. Hiram Revels died on January 16, 1901, while attending a church conference in Aberdeen, Mississippi. He was buried at the Hillcrest Cemetery in Holly Springs, Mississippi. Revels' daughter Susan Revels edited a newspaper in Seattle, Washington.
Among his grandsons were Horace R. Co-author of Black Metropolis, and Revels Cayton, a labor leader. [19] In 2002, scholar Molefi Kete Asante listed Hiram Rhodes Revels as one of 100 Greatest African Americans. List of African-American United States Senators. Blanche Kelso Bruce (March 1, 1841 March 17, 1898) was an African-American politician who represented Mississippi as a Republican in the United States Senate from 1875 to 1881; of mixed race, he was the first elected black senator to serve a full term.
Revels, also of Mississippi, was the first African American to serve in the U. Senate but did not complete a full term. Bruce's house at 909 M Street NW in Washington, D. Was declared a National Historic Landmark in 1975. Bruce was born into slavery in 1841 in Prince Edward County, Virginia near Farmville to Polly Bruce, an African-American woman who served as a domestic slave. His father was her master, Pettis Perkinson, a white Virginia planter. Bruce was treated comparatively well by his father, who educated him together with a legitimate half-brother. When Blanche Bruce was young, he played with his half-brother.
His father legally freed Blanche and arranged for an apprenticeship so he could learn a trade. Bruce's accomplishments through 1890. Bruce taught school and attended for two years Oberlin College in Oberlin, Ohio. He next worked as a steamboat porter on the Mississippi River.
In 1864, he moved to Hannibal, Missouri, where he established a school for black children. [2] He became a wealthy landowner of several thousand acres in the Mississippi Delta.
He became sergeant-at-arms for the Mississippi State Senate in 1870. In February 1874, Bruce was elected to the U. Senate, the second African American to serve in the upper house of Congress.
On February 14, 1879, Bruce presided over the U. Senate, becoming the first African American (and the only former slave) to have done so. [1] In 1880, James Z.
George was elected to succeed Bruce. At the 1880 Republican National Convention in Chicago, Bruce became the first African American to win any votes for national office at a major party's nominating convention, with eight votes for vice president.
The presidential nominee that year was Ohio's James A. Garfield, who narrowly won election over the Democrat Winfield Scott Hancock. May 28, 1880 Herald of Kansas article (page 2) promoting the Blaine - Bruce ticket.
In 1881, Bruce was appointed by President Garfield to be the Register of the Treasury, the first African American to have his signature featured on U. [5] He also served on the District of Columbia Board of Trustees of Public Schools from 1892 to 1895. [6] He was a participant in the March 5, 1897 meeting to celebrate the memory of Frederick Douglass and the American Academy led by Alexander Crummell. [7] He was appointed as Register of the Treasury a second time in 1897 by President William McKinley and served until his death in 1898. Relationship with other African Americans.
On the Bruce plantation in Mississippi, black sharecroppers lived in "flimsy wooden shacks, " working in the same oppressive conditions as on white-owned estates. After his Senate term expired, Bruce remained in Washington, D. Secured a succession of Republican patronage jobs and stumped for Republican candidates across the country. There, he also acquired a large townhouse and summer home, and presided over black high society. One newspaper wrote that Bruce did not approve of the designation colored men.
On June 24, 1878, Bruce married Josephine Beal Willson (1853 February 15, 1923), a fair-skinned socialite of Cleveland, Ohio, amid great publicity; the couple traveled to Europe for a four-month honeymoon. Their only child, Roscoe Conkling Bruce, was born in 1879. He was named for U. Senator Roscoe Conkling of New York, Bruce's mentor in the Senate.
In 2002, scholar Molefi Kete Asante listed Blanche Bruce on his list of 100 Greatest African Americans. In the fall of 1899, Josephine Bruce, accepted the position of lady principal at Tuskegee Institute in Tuskegee, Alabama.
[10] While visiting Josephine at Tuskegee, during the summer break of his senior year at Harvard, Roscoe Bruce met Booker T. Washington and secured a position at Tuskegee as head of the Academic Department. In July 1898, the District of Columbia public school trustees ordered that a then new public school building on Marshall Street be named the Bruce School in his honor. [11] Marshall Street later became Kenyon Street and the Bruce School became Caesar Chavez Prep Middle School in 2009, named for the Mexican-American labor organizer Cesar Chavez.
The Bruce School was combined with the James Monroe school to create Bruce-Monroe, located on Capitol Hill. Joseph Hayne Rainey (June 21, 1832 August 1, 1887) was an American politician. He was the first black person to serve in the United States House of Representatives, the second biracial person to serve in the United States Congress U. Senator Hiram Revels was the first, and the first biracial presiding officer of the House of Representatives.
Born into slavery in South Carolina, he was freed in the 1840s by his father purchasing the freedom of his entire family and himself. Revels and Rainey were both members of the Republican Party. Joseph Hayne Rainey was born into slavery in 1832 in Georgetown, South Carolina. He and his brother Edward were of mixed race; their mother Grace was of African and French descent, [1] likely descended from slaves brought by refugees from Saint-Domingue during and after the revolution that created Haiti. [1] With education severely limited for black people, as an adult Rainey followed his father by becoming a barber; it was an independent and well-respected trade that enabled him to build a wide network in his community.
In 1859, Rainey went to Philadelphia, Pennsylvania. There he met and married Susan, a free woman of color from the West Indies, who was also of African-French descent. 2004 portrait of Joseph Rainey by Simmie Knox, from the Collection of U. In 1861, with the outbreak of the American Civil War, Rainey was among the free black people who were conscripted by the Confederates to work on fortifications in Charleston, South Carolina.
He also worked as a cook and laborer on blockade runner ships. In 1862, Rainey and his family escaped to Bermuda.
George's, Bermuda town (from which Charleston and South Carolina had been founded in 1669 under Governor William Sayle), where Rainey worked as a barber, while his wife became a successful dressmaker with a shop. In 1865, the couple moved to the town of Hamilton when an outbreak of yellow fever threatened St. Rainey worked at the Hamilton Hotel as a barber and a bartender, where his customers were mostly white.
He became a respected member of the community. They made a prosperous life in Bermuda.
In 1870, 43 percent of the city's population was African American, including many people of color who, like Rainey, had been free and held skilled jobs before the war. His experience and wealth helped establish him as a leader and he quickly became involved in politics, joining the executive committee of the state Republican Party. In 1868, he was a delegate to the state constitutional convention.
In 1870, Rainey was elected to the State Senate of South Carolina and became chair of the Finance Committee. He served only a short time as that year he won a special election as a Republican to fill a vacancy in the Forty-first Congress of the United States. This vacancy had been created when the House refused to seat Benjamin F. He had been censured by the House for corruption but re-elected. Rainey was seated December 12, 1870 and was re-elected to Congress, serving a total of four terms.
Serving until March 3, 1879, he established a record of length of service for a black Congressman that was not surpassed until that of William L. Dawson of Chicago in the 1950s.
He supported legislation that became known as the Enforcement Acts, to suppress the violent activities of the Ku Klux Klan. This helped for a time, before white insurgents developed other paramilitary groups in the South, such as the White League and the Red Shirts. Rainey made three speeches on the floor of Congress in support of what was finally passed as the Civil Rights Act of 1875. In 1873, he said he was not seeking'social equality' and was content to choose his own circle. He went on to say. But we do want a law enacted that we may be recognized like other men in the country. Why is it that colored members of Congress cannot enjoy the same immunities that are accorded to white members? Why cannot we stop at hotels here without meeting objection? Why cannot we go into restaurants without being insulted? We are here enacting laws for the country and casting votes upon important questions; we have been sent here by the suffrages of the people, and why cannot we enjoy the same benefits that are accorded to our white colleagues on this floor? Representative from South Carolina, Rainey could not use Windsor as his primary residence, but he moved his family there for their safety. While visiting, he became an active member of the First Church of Windsor.
1830 Greek Revival, is located at 299 Palisado Avenue (it is used as a private residence). It was designated as one of 130 stops on the Connecticut Freedom Trail, established in 1996 to highlight the achievements of African Americans in gaining freedom and civil rights. During his term in Congress, Rainey supported legislation to protect the civil rights of Southern black people, working for two years to gain passage of the Civil Rights Act of 1875. He also worked to promote the southern economy.
In May 1874, Rainey became the first African American to preside over the House of Representatives as Speaker pro tempore. Since 1874, paramilitary terrorist groups such as the Red Shirts in North and South Carolina and Louisiana had acted openly as the military arm of the Democratic Party to suppress black voting. In July 1876, six black people were murdered in the Hamburg Massacre and in October, at least 100 were killed by white paramilitary groups in several days of violence in Ellenton, both in contested Aiken County, South Carolina. But in 1876, Rainey won re-election from the Charleston district against Democratic candidate John Smythe Richardson. Richardson challenged the result as invalid on the grounds of intimidation of Democrats by federal soldiers and black militias guarding the polls, but Rainey retained his seat.
The 1876 election was marked by widespread fraud in the state. For instance, votes counted in the upland Edgefield County for the Democratic gubernatorial candidate Wade Hampton III exceeded by 2,000 the total number of registered voters in the county; similar results were counted in Laurens County.
[5] That year Democrats ultimately took control of the state government, and the next year the federal government withdrew its troops from the South as part of a national compromise; Reconstruction was ended. In 1878, Rainey was defeated in a second contest with Richardson, although black men continued to be elected for numerous local offices through much of the 19th century. White Democrats used their dominance of the state legislature to pass laws for segregation, Jim Crow and making voter registration more difficult, effectively disenfranchising black people.
In 1895 they passed a new state constitution, that completed the disenfranchisement of most black people, stripping them of political power and excluding them from the political process for the next several decades into the 1960s. Congress, Rainey was appointed as a federal agent of the US Treasury Department for internal revenue in South Carolina.
He held this position for two years, after which he began a career in private commerce. He worked in brokerage and banking in Washington, DC for five years.
He died the following year in Georgetown, the city of his birth. James Thomas Rapier (November 13, 1837 May 31, 1883) was an African-American politician from Alabama during the Reconstruction Era.
He served as a United States Representative from Alabama, for one term from 1873 until 1875. Born free in Alabama, he received his higher education and law degree in Scotland and Canada before being admitted to the bar in Tennessee. Rapier was a nationally prominent figure in the Republican Party as one of seven blacks serving in the 43rd Congress.
He worked in 1874 for passage of the Civil Rights Act of 1875, which guaranteed equal access to accommodations. Rapier was born free in 1837 in Florence, Alabama to John H. Rapier, a prosperous local barber, and his wife, who were established free people of color. He had three older brothers.
His father had been emancipated in 1829; his mother was born into a free black family of Baltimore, Maryland. She died in 1841 when Rapier was four years old. In 1842 James and his brother John Jr.
Went to Nashville, Tennessee to live with their paternal grandmother Sally Thomas. [2][3] There they attended a school for African-American children, and learned to read and write. In 1856 Rapier traveled to Canada with his uncle Henry Thomas, his father's half-brother, who settled in Buxton, Ontario, an all-black community made up chiefly of African Americans. It was developed with the aid of Rev. William King, a Scots-American Presbyterian missionary.
King had bought land (with Canadian government approval) for resettlement of black American refugees who had escaped to Canada during the slavery years via the Underground Railroad. The African Americans were building a thriving community, and Rapier's uncle had property there. Rapier attended the Buxton Mission School, which was highly respected and had a classical education. He pursued higher education in three stages, first earning a teaching degree in 1856 at a normal school in Toronto. He traveled to Scotland to study at University of Glasgow.
Returning to Canada, he completed his law degree at Montreal College and was admitted to the bar. Return to US and career. After teaching for a time at the Buxton Mission School, Rapier moved in 1864 to Nashville, Tennessee. He attended Franklin College, a historically black college, to gain a teaching certificate. Working as a reporter for a northern newspaper, Rapier bought 200 acres in Maury County, Tennessee, and became a cotton planter.
He made a keynote speech at the Tennessee Suffrage Convention[2]. He continued as an advocate for black voting rights but was disappointed in the return of Confederates to state office. There he bought 550 acres and again cultivated cotton.
He became active in the Republican Party, serving as a delegate to the 1867 state constitutional convention. In 1870 Rapier ran for Alabama Secretary of State and lost.
In 1872 he was elected to the Forty-third United States Congress from Alabama's 2nd congressional district, one of three African-American congressmen elected from the state during Reconstruction. While in Congress, he had national scope.
Rapier proposed authorizing a land bureau to allocate Western lands to freedmen. He was one of seven black Congressmen at the time; in 1874 they each testified for the Civil Rights Act, which was signed in 1875. Rapier recalled being denied service at every inn at stopping points between Montgomery, Alabama, and Washington, DC, despite being a US Congressman. He noted how the race issue in the United States society related to what were often class and religious inequalities in other lands, and said that he was "half slave and half free", having political rights but no civil rights. He said that in Europe, "they have princes, dukes, and lords; in India, "brahmans or priests, who rank above the sudras or laborers;" in America, "our distinction is color.
After losing his re-election campaign in 1874, Rapier was appointed by the Republican presidential administration as a collector for the Internal Revenue Service in Alabama, serving in this role until his death. He campaigned against the conservative Democratic Party's Redeemer government in Alabama, but Democrats regained control of the state legislature in 1874. Under subjective white administration, these barriers essentially disenfranchised most blacks and many poor whites in Alabama, excluding them from the political system for decades into the late 20th century. Rapier died in Montgomery, Alabama on May 31, 1883 of pulmonary tuberculosis. He was buried in Calvary Cemetery in St.
The Rapier Family Papers are held by Howard University. In 1979 historian John Hope Franklin gave a presidential address [1] to the American Historical Association. He discussed how Walter L.
Fleming of Vanderbilt University, one of the most prominent of the influential historians of the 20th-century Dunning School, had written about Rapier. Franklin observed that Fleming's viewpoint, which had been hostile to civil and voting rights for African Americans, may have led him to make errors. Writing in 1905 Walter L.
Fleming referred to James T. Rapier, a Black member of the Alabama constitutional convention of 1867, as Rapier of Canada.
" He then quoted Rapier as saying that the manner in which "colored gentlemen and ladies were treated in America was beyond his comprehension. " [Fleming, Civil War and Reconstruction in Alabama] In a footnote to his address, Franklin added: "Fleming knew better, for in another placedeep in a footnote p. 519he asserted that Rapier was from Lauderdale, "educated in Canada".
Born in Alabama in 1837, Rapier, like many of his white contemporaries, went North for an education. The difference was that instead of stopping in the northern part of the United States, as, for example, (the pro-slavery advocate) William L. Yancey did, Rapier went on to Canada. Rapier's contemporaries did not regard him as a Canadian; and, if some were not precisely clear about where he was born (as was the Alabama State Journal, which referred to his birthplace as Montgomery rather than Florence), they did not misplace him altogether.
Rapier and Reconstruction (Chicago, 1978), xvii, 15. Franklin said: In 1905 Fleming made Rapier a Canadian because it suited his purposes to have a bold, aggressive,'impertinent' in Alabama Reconstruction come from some non-Southern, contaminating environment like Canada. But it did not suit his purposes to call Yancey, who was a graduate of Williams College, a'Massachusetts Man. Fleming described Yancey (a white Confederate) as, simply, the'leader of the States Rights men. Fleming, Civil War and Reconstruction in Alabama, p.
For a detailed account and comparison of Yancey and other white Southerners who went North to secure an education, see Franklin's book, A Southern Odyssey: Travelers in the Antebellum North (Baton Rouge: Louisiana State University Press, 1976), pp. Franklin is critical of Fleming for falsely stating that Rapier, and others, were carpetbaggers. Some of the people that Fleming called carpetbaggers had lived in Alabama for years and were, therefore, entitled to at least as much presumption of assimilation in moving from some other state to Alabama decades before the war as the Irish were in moving from their native land to some community in the United States.
Whether they had lived in Alabama for decades before the Civil War or had settled there after the war, these "carpetbaggers" were apparently not to be regarded as models for Northern investors or settlers in the early years of the twentieth century. Twentieth-century investors from the North were welcome provided they accepted the established arrangements in race relations and the like. Fleming served his Alabama friends well by ridiculing carpetbaggers, even if in the process he had to distort and misrepresent. John Roy Lynch (September 10, 1847 November 2, 1939) was an African-American Republican politician, writer, attorney and military officer.
Born into slavery in Louisiana, he became free in 1863 under the Emancipation Proclamation. His father was an Irish immigrant and his parents had a common-law marriage. After serving for several years in the state legislature, in 1873 Lynch was elected as the first African-American Speaker of the Mississippi House of Representatives; he was the first African American to hold this position in the country. During Reconstruction after the American Civil War, he was among the first generation of African Americans from the South elected to the U. S House of Representatives, serving from 1873 to 1877 and again in the 1880s.
After Democrats regained power in the state legislature following Reconstruction, in 1890 they disfranchised most blacks in the state (who were a majority of the population) by a new constitution that raised barriers to voter registration. Then in his 50s, Lynch studied law; he was admitted to the Mississippi bar in 1896. He served in the United States Army during the SpanishAmerican War and for a decade into the early 1900s, achieving the rank of major. After retiring, Lynch moved to Chicago, Illinois, where he lived for more than two decades. After his military service, Lynch was active in law and real estate in Chicago.
Beginning in 1877, when Reconstruction ended with the federal government withdrawing its troops from the South, Lynch wrote and published four books: these analyzed the political situation in the South during and after Reconstruction. He is best known for his book, The Facts of Reconstruction (1913). It is available online at the Gutenberg Project.
In it, he argued against the prevailing view of the Dunning School, conservative white historians who downplayed African-American contributions and the achievements of the Reconstruction era. Lynch emphasized how significant was the ratification of the 14th and 15th Amendments to the Constitution, which granted full citizenship to all persons without restriction of race or color, and suffrage to minority males.
Lynch was born into slavery in 1847 on Tacony Plantation near Vidalia, Concordia Parish, Louisiana. He was the third son of his mother Catherine White, who was enslaved. She had four boys in total.
Born in Virginia, she was of mixed race, as were both of her parents, Robert and Elizabeth White. Under slavery law, the children of slave mothers were slaves, regardless of paternity. John's father Patrick Lynch was the overseer on the plantation; he had a common-law marriage with Catherine White. A young immigrant, Patrick Lynch had come to the United States with his family from Dublin, Ireland. They settled in Zanesville, Ohio. As young men, Patrick and his older brother Edward Lynch moved South; Patrick became an overseer at the Tacony Plantation.
There he fell in love with Catherine and they became a couple, [1] living together as man and wife. They were prohibited from marrying by state law. To protect his family, Patrick Lynch bought Catherine and their mixed-race sons from the Tacony plantation owner. The state legislature was trying to reduce the number of free people of color, and it severely restricted the number of manumissions, ending approval altogether in 1852. [2] In addition, he would have to submit a request for these manumissions to an Emancipation Court.
He thought the city would be a good place to live, as he had learned that it had a large population of free people of color. Many had achieved some education and economic status. Lynch died in 1849 of illness before carrying out his plan. Before his death, Patrick Lynch arranged for his friend, William G. Deal, to take title of Catherine, William and John, with the understanding that this was a legality to protect the family, who continued to work at Tacony plantation.
[1] When she met Davis, Catherine was shocked to learn of the sale. She told him her family's story. Davis offered to keep her and her two sons with her (one had died by this time), and to have her work in his household.
He mostly kept his word, but Catherine and her two sons did not gain freedom until 1863, under the Emancipation Proclamation. Because of an argument with Mrs. Davis, the boy John Lynch had been sent to field labor on the plantation. He was 16 when he and his family gained freedom. Lynch worked with elements of the Union Army in the Natchez area.
After the Civil War ended in 1865, a friend of his father's arranged for him to work for a photographer. Lynch took on increased responsibilities until he managed the entire operation and its finances. He built a successful business in Natchez. Wanting to continue his education, Lynch attended a night school taught by Northerners. By the end of 1866, many such teachers were driven out of the state by whites' violent opposition to the education of freedmen.
As Lynch's business was near a white school, the young man often eavesdropped on lessons through the open windows. Lynch's leadership abilities were quickly recognized in Natchez, and he gained post-war political opportunities. He became active in the Republican Party by the age of 20. Although too young to participate as a delegate, he attended the state's constitutional convention of 1867, studying its developments closely. The first proposed constitution was defeated, largely because it required the temporary disenfranchisement of former Confederates, an unpopular proposal.
In April 1869 at the age of 22, Lynch was appointed by the military governor, Adelbert Ames, as a Justice of the Peace in Natchez. Later that year Lynch was elected as a Republican to the Mississippi State House. He was re-elected, serving until 1873. In his last term, January 1872 he was elected as Speaker of the Mississippi House, the first African American to achieve that position.
At the age of 26 in 1872, Lynch was elected as the youngest member of the US Congress from Mississippi's 6th congressional district, as part of the first generation of African-American Congressmen. This district was created by the state legislature in 1870. He was the only African American elected from Mississippi for a century.
In 1874 Lynch was the only Republican in the Mississippi House delegation to be elected in the face of a Democratic campaign against Republicans and blacks. [5] Elections in the state were increasingly accompanied by violence and fraud as Democrats worked to regain political power. In 1874, the White League, a white paramilitary group active on behalf of the Democratic Party, had worked openly to intimidate and suppress black voting, assassinating blacks and running Republican officers out of town. In 1875 Democrats dominated the House of Representatives for the first time since the Civil War. Lynch introduced many bills and argued on their behalf.
Perhaps his greatest effort was in the long debate supporting the Civil Rights Act of 1875 to ban discrimination in public accommodations. He was one of seven African-American Congressmen present, who all testified in 1874 as to personal and known experience of the effects of discrimination in this area.
Maintaining that the legislation would not force blacks and whites to mix socially, as southern Democrats feared, Lynch said, It is not social rights that we desire. We have enough of that already.
What we ask for is protection in the enjoyment of public rightsrights that are or should be accorded to every citizen alike. Another speech included the following.
They were faithful and true to you then; they are no less so today. And yet they ask no special favors as a class; they ask no special protection as a race. They ask no favors, they desire; and must have; an equal chance in the race of life. In 1876 Lynch spoke out against the White League and racial divisions in his state. The Democratic Party dominated the state legislature, redrawing his district and guaranteeing white majorities in the other five.
Lynch contested the victory of Democrat James R. Chalmers from the 6th district, but, with Congress dominated by Democrats, the Elections Committee refused to hear the case. As a result of a national Democratic Party compromise, in 1877 the federal government withdrew its troops from the South, and Reconstruction was considered ended. The Democrats kept control of the state legislature. In 1880 Lynch re-entered politics.
He ran against Democrat James R. Chalmers from the 6th district and contested his claim of victory in the majority-black 6th district. When his case came before the Committee on Elections on April 27, 1882, Lynch argued that in five counties, more than 5,000 of his votes had been counted for Chalmers. Lynchs strongest arguments were based on Chalmerss remarks that Lynchs votes had been thrown out and that he (Chalmers) was'in favor of using every means short of violence to preserve [for] intelligent white people of Mississippi supreme control of political affairs. The committee ruled in Lynchs favor, and on April 29, 1882, the House voted 125 to 83 to seat him; 62 Members abstained.
Lynch was awarded the seat by Congress in 1882. He had little time to campaign and lost re-election in 1882 by 600 votes, ending his career in Congress.
He continued to have influence in Mississippi and in the Republican Party. In 1884, Lynch became the first African American to chair a political party's National Convention.
Future president Theodore Roosevelt made a moving speech nominating Lynch as Temporary Chairman of the 1884 Republican National Convention in Chicago, Illinois. Lynch served as a member of the Republican National Committee for Mississippi from 1884 to 1889. In 1884, at the age of 37, Lynch married Ella Sommerville; they had a daughter before divorcing.
Years later, in 1911, after Lynch retired from the Army, he married again, to Cora Williams. They left Mississippi the following year, part of the Great Migration to Northern industrial cities, and settled in Chicago. They lived there until Lynch's death in 1939. Later political and military career. Lynch, photo from his 1913 book. [6] He wanted to live where he could participate politically.
During the SpanishAmerican War, Lynch was commissioned in 1898 as a major and appointed as paymaster in the Army by President William McKinley. In 1901, Lynch entered the Regular Army as a captain.
He was promoted to major and served tours of duty in the United States, Cuba, and the Philippines. After Lynch retired from the Army in 1911, he married again and moved to Chicago in 1912. There he set up his law practice.
He also became involved in real estate, as the city became a destination of tens of thousands of rural blacks in the Great Migration, including many from Mississippi. It was also attracting European immigrants and rapidly expanding based on its industrial jobs.
After his death in Chicago in 1939 at the age of 92, Lynch was buried with military honors in Arlington National Cemetery, due his service as a Congressman and military officer. At the turn of the 20th century, the struggle for memory and meaning of the Civil War and Reconstruction continued. Lynch wrote a book, The Facts of Reconstruction (1913), and several articles criticizing the then-dominant Dunning School of historiography.
Dunning and followers, many of whom were prominent in major Southern universities, evaluated Reconstruction largely from the viewpoint of white former slave owners and ex-Confederates; they expressed the discriminatory views of their societies. They routinely downplayed any positive contributions of African Americans during Reconstruction, said they were dominated by white carpetbaggers, and could not manage political power. This was in keeping with the disfranchisement of blacks throughout the former Confederacy from 1890 to 1910, and the imposition by state legislatures of racial segregation and Jim Crow law to restore white supremacy. Lynch argued that blacks had made substantial contributions during the period. He also published articles on this topic in 1917 and 1918 in the Journal of History.
[8] His views were later supported by historians such as W. Du Bois in his Black Reconstruction in America (1935) and Eric Foner in Reconstruction: America's Unfinished Revolution, 18631877 (1988), among others. Since the late 20th century, new histories and research have changed the perception of the achievements during Reconstruction.
The Facts of Reconstruction is freely available online, [9] courtesy of the Gutenberg Project. Since Lynch participated directly in Reconstruction-era governments, historians consider his book to be a primary source in study of the period. Lynch's memoir, Reminiscences of an Active Life: The Autobiography of John Roy Lynch, which he worked on near the end of his life, was not published until 1970.
A number of chapters dealing with Reconstruction are close to material published first in his 1913 The Facts of Reconstruction. A new edition of his memoir was issued by the University of Mississippi Press in 2008. Much is available for preview online at Google books.
African Americans (also referred to as Black Americans or Afro-Americans[3]) are an ethnic group of Americans with total or partial ancestry from any of the black racial groups of Africa. [4][5] The term typically refers to descendants of enslaved black people who are from the United States. [6][7] As a compound adjective, the term is usually hyphenated as African-American. Black and African Americans constitute the third largest racial and ethnic group in the United States (after White Americans and Hispanic and Latino Americans). [10] Most African Americans are descendants of enslaved peoples within the boundaries of the present United States.
[11][12] On average, African Americans are of West/Central African and European descent, and some also have Native American ancestry. [13] According to US Census Bureau data, African immigrants generally do not self-identify as African American. The overwhelming majority of African immigrants identify instead with their own respective ethnicities (95%). [14] Immigrants from some Caribbean, Central American and South American nations and their descendants may or may not also self-identify with the term.
African-American history starts in the 16th century, with peoples from West Africa forcibly taken as slaves to Spanish America, and in the 17th century with West African slaves taken to English colonies in North America. After the founding of the United States, black people continued to be enslaved, and the last four million black slaves were only liberated after the Civil War in 1865.
[15] Due to notions of white supremacy, they were treated as second-class citizens. The Naturalization Act of 1790 limited U. Citizenship to whites only, and only white men of property could vote. [16][17] These circumstances were changed by Reconstruction, development of the black community, participation in the great military conflicts of the United States, the elimination of racial segregation, and the civil rights movement which sought political and social freedom. In 2008, Barack Obama became the first African American to be elected President of the United States.
The item "RARE Engraved portrait Black African-American Reconstruction Congress print 1883" is in sale since Tuesday, April 9, 2019. This item is in the category "Collectibles\Cultures & Ethnicities\Black Americana\Prints, Posters & Paintings".
The seller is "dalebooks" and is located in Rochester, New York. This item can be shipped worldwide.
Modified Item: No
Country/Region of Manufacture: United States

---